Toasted Garlic Bread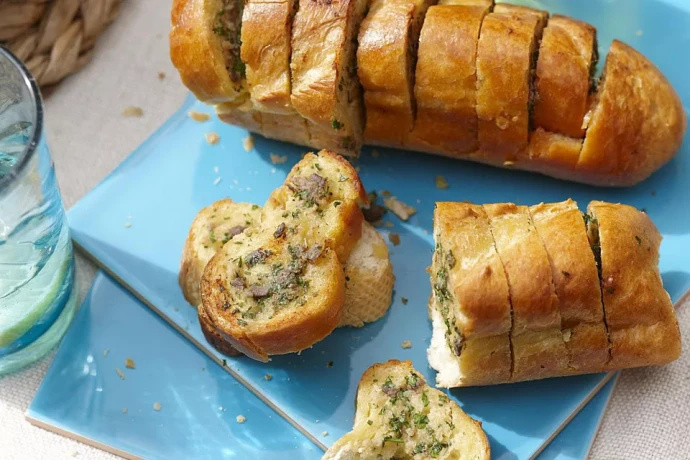 This delicious recipe for crisp, fragrant toasted garlic bread is very easy to make. This is the perfect accompaniment for a spaghetti or lasagna dinner, or when you want to serve some warm and flavorful bread at a cookout. You can use French or Italian bread in this recipe. Do not use thin and crisp baguettes, since that type of bread will not absorb the butter as the softer bread will. The bread should have some heft to it, and a nice soft crumb so the fragrant garlic mixture sinks into it. Of course, for the very best garlic bread, make the bread yourself.
Fresh garlic is essential to this recipe. Do not use jarred garlic that is sold already chopped or minced and packed in liquid; it does not have the intense flavor of fresh garlic cloves. For the same reason, do not use dehydrated garlic flakes or garlic powder. You want your garlic to be chopped on the spot. A popular variation on this recipe adds cheese. After a few minutes in the toaster oven, you pull the bread out and top with shredded or grated Parmesan, provolone, or some other cheese. Return to the oven until the cheese is melted and starts to bubble.
If you want to make the whole loaf, make perpendicular slices along the baguette, then place cheese in between each slice and reassemble the loaf. Wrap the whole thing in foil and bake until the cheese is soft and melted.
Ingredients:
1/2 loaf French or Italian bread
5 tablespoons butter (softened)
2 tablespoons extra virgin olive oil
3 cloves garlic (crushed)
Pinch salt
Pinch pepper