Roasted Squash Hummus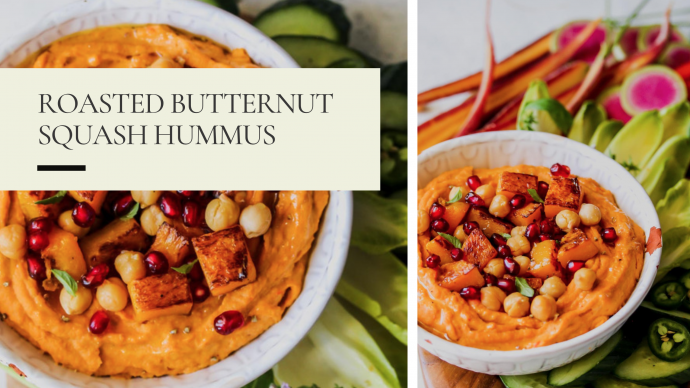 This hummus, made like traditional chickpea hummus but based on roasted acorn squash instead, is absolutely delicious with pomegranate molasses, a variety of hot peppers, aromatics like garlic, and a hodgepodge of spices such as coriander, saffron, and caraway. The slightly bitter, nutty nuances of tahini complement the sweet squash beautifully here. A perfect healthy snack for any party and family get-together. Of course you can serve the hummus with pita or in a pocket stuffed with roasted vegetables, but I really like it as a dip, when the dippers are crunchy fresh vegetables.
Ingredients
1 small (about 1½ pounds) acorn or butternut squash, scrubbed
1 tablespoon extra-virgin olive oil, plus more for finishing
Fine sea salt and freshly ground pepper
Cayenne pepper
½ cup (120 ml) tahini
2 tablespoons pomegranate molasses
1 to 2 teaspoons Zaatar, or ½ teaspoon dried oregano plus ½ teaspoon dried thyme, or to taste
1 lemon, halved, for finishing and serving
About ⅓ cup (80 ml) plain Greek yogurt, for finishing
2 to 3 tablespoons pomegranate seeds, for finishing
For serving (optional)
Toasted pita wedges or sliced flatbread
Carrot spears
Celery sticks
Endive leaves
Directions
Step 1
Preheat the oven to 400 F. Line a baking sheet with foil.
Step 2
If you're using acorn squash, cut it in half around its middle. If using butternut, cut it lengthwise. Scoop out and discard the seeds and strings.
Step 3
Season the tablespoon of oil generously with salt and pepper and sparingly with cayenne. Brush the inside and rim of the squash with the oil, then put the squash skin side up on the baking sheet.
Step 4
Roast for 35 to 45 minutes, until the squash is easily pierced with a small knife. Remove the baking sheet from the oven and turn the oven to broil.
Step 5
Cut the squash into wedges or slices and stand them up on their skin sides. Return the sheet to the oven and broil — keeping an eye on the squash — just until it is charred here and there. Figure on about 5 minutes — but keep watching! Remove from the broiler and let cool slightly.
Step 6
When the squash is cool enough to handle, scrape the flesh from the skin and into a bowl. Use a fork to mash the squash into a puree; you should have about 1 cup. Stir in the tahini, followed by the pomegranate molasses and Zaatar (start with 1 teaspoon) or oregano and thyme. Taste for salt, pepper, cayenne and Zaatar, keeping in mind that if you chill the hummus, the cold will tamp down the flavors. If desired — and I always desire — squeeze in the juice from one lemon half. Cut the remaining half into wedges to serve alongside the hummus.
Step 7
When you're ready to serve, put the yogurt in a small serving bowl or on a plate and use the back of a spoon to spread it into a circle. Top with the hummus, leaving a rim of yogurt visible. Run the back of a spoon through the hummus to make a small trough, drizzle some olive oil into it and over the yogurt and scatter over the pomegranate seeds. Serve with the lemon wedges, bread and vegetables, if you'd like.
Bon appétit!