Lucky Charms Marshmallow Treats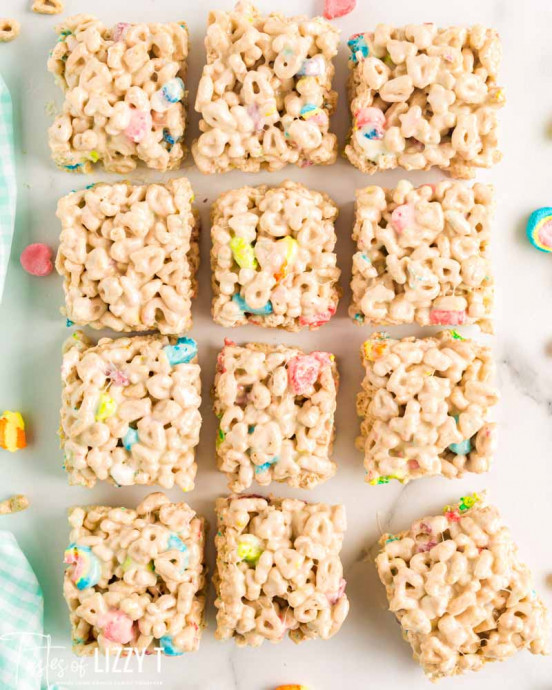 Celebrate spring with these easy Lucky Charms Marshmallow Treats. A nearly 1:1 cereal to marshmallow ratio makes them extra gooey. There are only 4 ingredients needed for this recipe: Butter. If you use salted butter, it helps to cut down on the sweetness of the cereal and marshmallows. If you only have unsalted butter, add about 1/4 teaspoon of salt. Marshmallows. Marshmallow treats work best if you use fresh marshmallows. If you only have stale, you can try putting a slice of bread into the marshmallow bag and sealing it. They may soften up after a day or two. But, for the best results, use fresh marshmallows. Vanilla Extract. For a little warm flavor. Cereal. You can use name brand Lucky Charms or a store brand. These sweet cereal bars are super easy to make. Here are just a few tips:
Be sure to stir the gently when you add the cereal to avoid crushing the marshmallows and cereal. Also be sure to press gently into the pan to avoid dense and hard bars. If you're looking for a little something extra, try saving some marshmallows from the cereal to press into the top of the bars, drizzle with white chocolate or add sprinkles. Try flavored Lucky Charms or flavored marshmallows for another variation.
Ingredients:
6 tablespoons salted butter (plus more for pan)
16 ounces miniature marshmallows (8 1/2 cups)
1 teaspoon vanilla extract
9 cups Lucky Charms cereal