Easy Stuffed Sausage – Keto, Gluten Free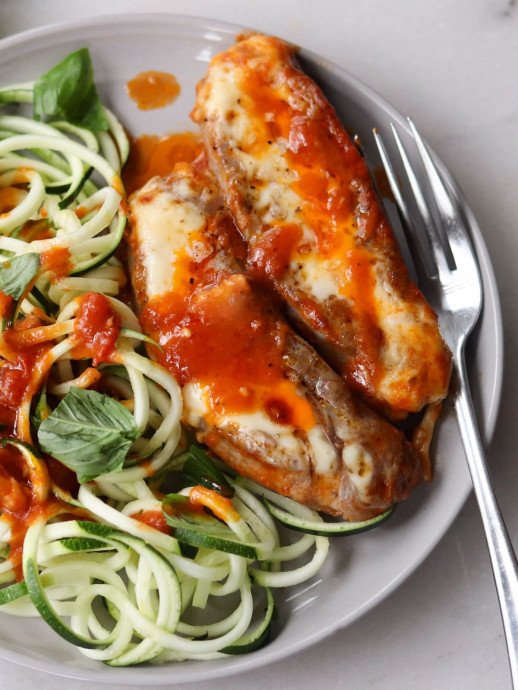 This easy stuffed sausage recipe is made with just three basic ingredients and only a few minutes of hands on time. It's incredibly simple to make, and a great recipe to feed a crowd! Best of all, it's low-carb, keto and gluten-free friendly. This is just one of my favorite recipes made with Italian sausage. Because good Italian sausage has so much flavor, you hardly have to do anything with it to make a wonderful meal.
So how's it made? Well, these sausages have mozzarella cheese inside and are baked in a rich tomato sauce, giving you all the amazing Italian flavors you love in just one dish. It comes out gooey and cheesy, with a little heat (depending on the spice level of the sausages you choose), and oh so wonderful.
It can be made to serve one or two people, or it can be easily made in large batches to feed a crowd! And best of all, this recipe is 100% keto, low-carb, and gluten-free friendly. Just be always sure to check all the ingredients for sneaky sugar and gluten if you have an allergy or sensitivity! This dish is incredibly wonderful as-is, but you might enjoy adding a little extra texture, flavor, and upping the vegetables in this dish. It makes it a complete meal, but you can skip if you'd rather!
Stuff each sausage link with any combination of diced bell peppers, onions, and mushrooms that you like. Use one to two tablespoons of diced vegetables per sausage link, depending on the size.
Ingredients:
Stuffed Sausages
1.5 lb. Italian Sausage links , about 1/4 to 1/3 lb. each
2/3 cup marinara sauce , no sugar added
1/2 lb. mozzarella cheese , or 1 mozzarella cheese stick per sausage link
Optional Ingredients
3 zucchini spiralized
1 medium spaghetti squash cooked
1/4 cup diced bell peppers, onions, and mushrooms
1/4 cup fresh basil