Bunny Ears Easter Cupcakes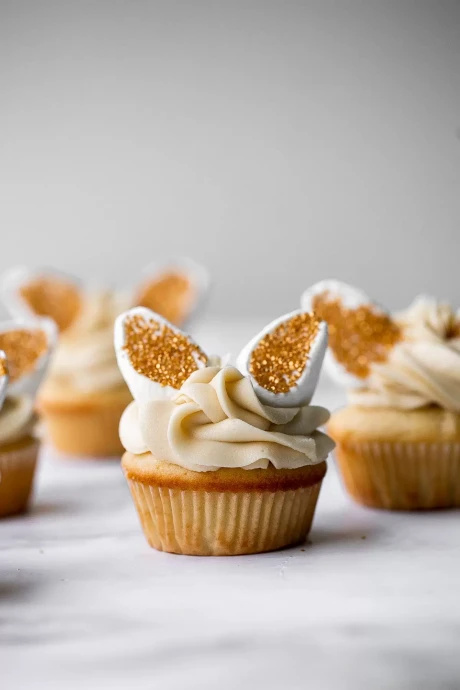 Bunny ears Easter cupcakes are made of moist vanilla cake with homemade buttercream frosting, topped with sugar sprinkle coated marshmallows. These decadent handheld treats are the sweetest and most flavorful dessert you'll have this Easter. Satisfy those dessert lovers with a fluffy vanilla cake that locks in moisture and crumbles delicately. The melt-in-your-mouth taste will have you coming back for more each year. These bunny ears Easter cupcakes are creative, tasty, and fun!
Why you'll love these bunny ears Easter cupcakes? The festive design is pretty sweet. Cute bunny ears top these vanilla cupcakes with festive fun. Customize your colored sprinkles and unleash your creativity. You can even use food coloring to dye the icing for some Easter pastels! Decorating for the whole family. Decorating these bunny ears Easter cupcakes is so easy, your kids can do their part before eating them! Dessert can be just as fun to make as it is to eat. Who doesn't love moist, fluffy, sweet vanilla cupcakes? The texture and flavor of these bunny ears Easter cupcakes create a decadent treat that everyone will love this holiday.
Homemade buttercream frosting. What more is there to say? It's fresh. It's sweet. It's to die for. Celebrate Easter the right way with homemade buttercream frosting atop your bunny ears Easter cupcakes.
Ingredients:
Vanilla Cupcakes
1 + ½ cups all-purpose flour
1 + ½ teaspoons baking powder
2 tablespoons cornstarch
¼ teaspoon salt
½ cup unsalted butter, softened
1 cup granulated sugar
2 large eggs, at room temperature
2 teaspoons vanilla extract
⅓ cup plain yogurt, at room temperature
½ cup whole milk, at room temperature
Buttercream Frosting:
1 cup unsalted butter, softened
1 teaspoon vanilla extract
4 cups confectioners' sugar
2 tablespoons milk
Bunny Ears:
12 large marshmallows
sugar sprinkles