Easter Bunny Cookies with Fluffy Tails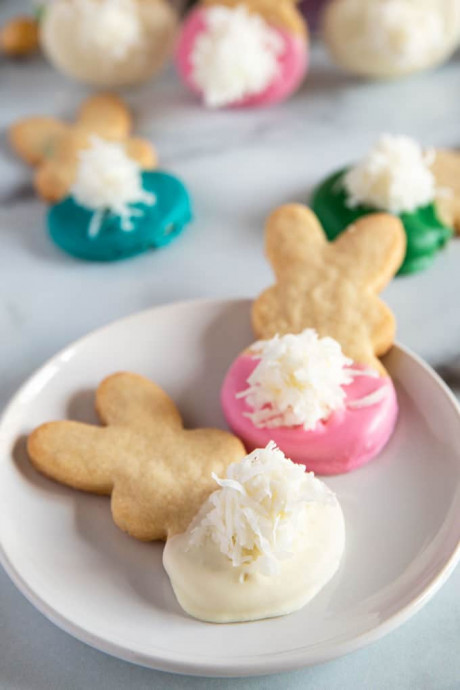 These easy to make shortbread Easter Bunny Cookies are dipped in white chocolate and have marshmallow and coconut fluffy tails! Cute, fun, festive, delicious and a great addition to your holiday menu! Shortbread cookies are by far one of my favorite homemade cookies. They are absolutely delicious and perfect for making cut out cookies. The dough keeps their shape perfectly making them ideal when making decorated cookies.
Although you can make these Easter treats with sugar cookies, I love the buttery taste and the crumbly and flaky texture of this shortbread cookie recipe. It seriously melts in your mouth! Seriously, how cute are these fluffy tailed bunnies? These Easter cookies are a great addition to your holiday menu and are also a great little party favor to give away to family and friends.
You can make a simple 3 ingredients shortbread cookie, in this version however, I add vanilla extract and a little salt to the dough. You can use almond extract, if you prefer. The fluffy tails are made with mini marshmallows, dipped in melted white chocolate and rolled in sweetened shredded coconut. You can dip the cookies in white chocolate or use candy melts in pastel colors for spring and Easter.
Ingredients:
3/4 pound unsalted butter at room temperature
1 cup sugar
1 teaspoon vanilla extract
3 1/2 cups all-purpose flour
1/4 teaspoon salt
12 ounces white chocolate *see notes (or candy melts in pastel colors like pink, yellow, blue and green)
1 cup sweetened coconut flakes
30 to 40 mini marshmallows