Easter Around The World: Italian Easter Bread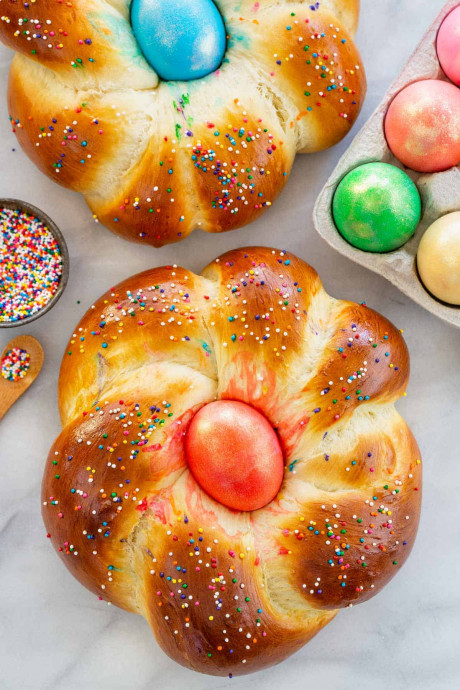 A traditional festive Italian Easter Bread recipe that's easy to make! This holiday bread with an egg in the middle is fun to decorate with family and makes a great gift for loved ones.
This Italian Easter bread is a fun and festive recipe similar to a challah egg bread. It's a slightly sweet yeast-leavened baked treat that yields soft and tender slices with colorful sprinkles on top. You can work through each step, mixing, proofing, shaping and have time in between to decorate Easter eggs.
The eye-catching egg in the center will have your guests saying "oohs, and ahhs" about your beautiful creation. I love the vibrant colors and the fact this bread can be shaped in a variety of designs. This recipe yields three large wreaths, or you can make six mini wreaths with the dough. Two long ropes of dough are rolled out and then twisted to form a ring. A simple egg wash is brushed on each wreath just before baking to achieve the perfect golden brown color and shine on the Italian Easter bread.
Oh yeah, and don't forget the sprinkles! The added pop of colors not only makes the finished product look beautiful, but it also adds just a touch of extra sweetness to each bite.
Ingredients:
1 ¼ cups milk
⅓ cup unsalted butter, cut into small cubes
2 ¼ teaspoons rapid rise instant yeast, 1 package
⅛ teaspoon kosher salt
½ cup granulated sugar
2 large eggs, beaten
4 cups all-purpose flour, divided, plus more for kneading
1 large egg, beaten plus 1 teaspoon water
3 dyed easter eggs, raw or hard boiled
colored sprinkles