Mini Bacon and Onion Pasties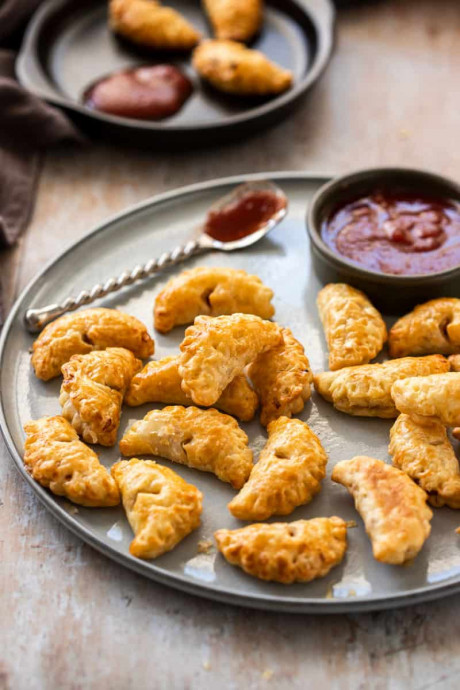 Mini Bacon and Onion Pasties are flavour packed, simply prepared appetisers that your family and friends will adore. They're the ideal appetiser to serve with drinks; crisp, flaky pastry filled with a bacon and onion mixture. It is savoury goodness in mini form!
Best of all? This delicious tasting, impressive looking recipe is one of the simplest to make. Given that there are only a handful of ingredients in this recipe, I recommend using good quality products. For this recipe, I have used a good quality shortcut bacon. You can tell the quality of bacon when you cook it – if the bacon starts to spit a lot in the pan, this tends to indicate that the bacon has high water content. Higher quality bacon should not spit nearly as much. The brown onion, also known as the yellow onion, is frequently used in cooking. If I only have red onion on hand, I find this also works well in this recipe. You can make this recipe to make everything completely from scratch. Be sure to keep the leftover bits of pastry – they will come in handy to top pies and tarts. Or, sprinkle with a little cheese and bake for a tasty snack! Delicious on their own, or with a little Tomato Sauce or Sweet Chilli Sauce.
Ingredients:
3 shortcut bacon rashers
1 small brown onion
1 tsp olive oil
1 sheet butter puff pastry
1 egg See Note 2
sea salt and black pepper to taste