Mustard Balsamic Pork Chops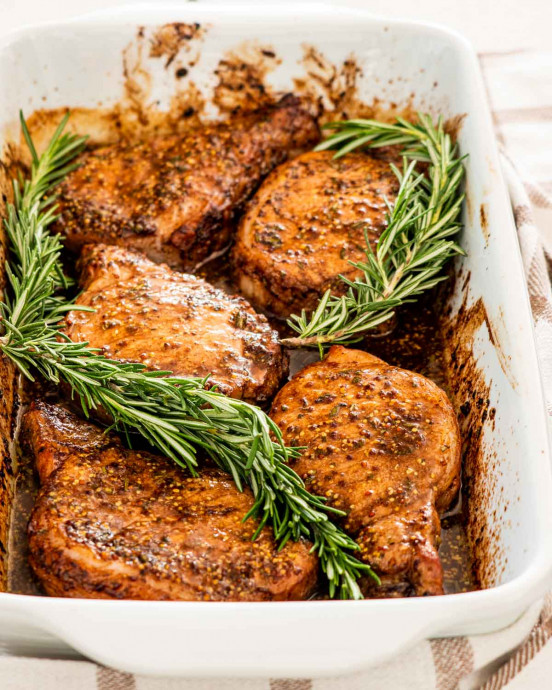 These Mustard Balsamic Pork Chops only take 5 minute prep time, 20 minute in the oven and then straight to your dinner table! They couldn't get any easier! So tender and delicious, they simply melt in your mouth! Although I'm not much of a pork fan, I must say that I love a perfectly cooked, perfectly tender pork chop. And I'm all about recipes that require very little prep time because we're all super busy, I mean who's got the time to slave in the kitchen for hours.
These pork chops are baked in the oven with a delicious savory marinade with a touch of sweet from the balsamic vinegar. It really works! My favorite way to serve them is over creamy mashed potatoes or along side some potato salad. You can also try: Polenta, White Beans with Bacon and Herbs, Italian Parmesan Roasted Potatoes, Old Fashioned Green Beans, Macaroni Salad. Store in an airtight container or ziploc bag. Make sure the pork chops have cooled down before storing them. They will last 3-4 days in the fridge. You can also freeze them in an airtight container or freezer bag up to 2-3 months.
Ingredients:
5 pork chops mine were 1 inch thick, bone-in pork chops can be used as well
1/4 cup olive oil
2 tbsp wholegrain mustard I used Dijon Wholegrain Mustard
1/4 cup balsamic vinegar
1 tbsp fresh rosemary coarsely chopped, or 1 tsp dry
salt and pepper to taste