Strawberry Banana Muffins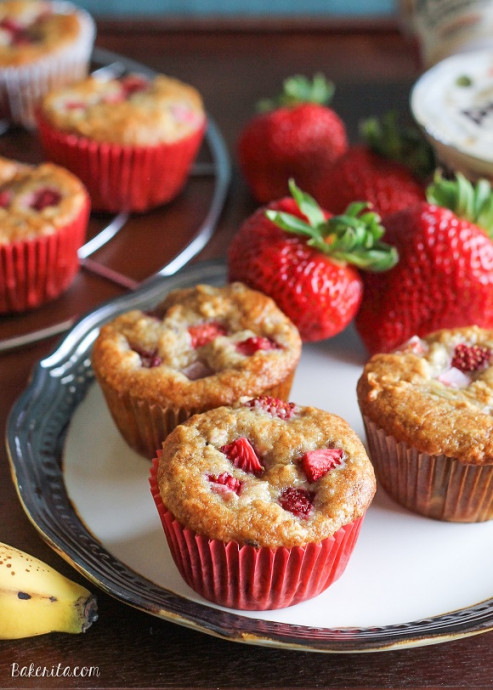 These Strawberry Banana Muffins are the perfect on-the-go snack or breakfast! Greek yogurt and bananas keep these muffins super moist, and strawberries make them fruity and super flavorful. These muffins get moisture from many places. First, anything with bananas is gonna be soft and sweet. That's only ramped up by a bit of vegetable oil and Greek yogurt (I used strawberry flavor). This trio of ingredients will result in super tender muffins!
To add a bit of heartiness, I added in some oatmeal. It adds a nice texture and some whole grains to the mix, which make these perfect for breakfast. Best of all? These come together in less than 10 minutes, so you will be enjoying fresh muffins in less than 45 minutes. They also make your house smell delicious. Strawberries are one of my favorites to bake with, they add such a delicious burst of fruity flavor to these muffins, and they'll be gobbled up by any strawberry lovers. Hope you love them!
Ingredients:
1 cup all-purpose flour
¼ cup whole wheat flour
½ cup rolled oats
½ cup light brown sugar
¼ cup granulated sugar
½ teaspoon salt
2 teaspoons baking powder
½ teaspoon baking soda
¼ cup vegetable oil
½ cup mashed bananas (about 2 small or 1 large)
1/2 cup Greek yogurt (I used strawberry flavor)
1 cup strawberries (diced)