Black Bean And Zucchini Enchiladas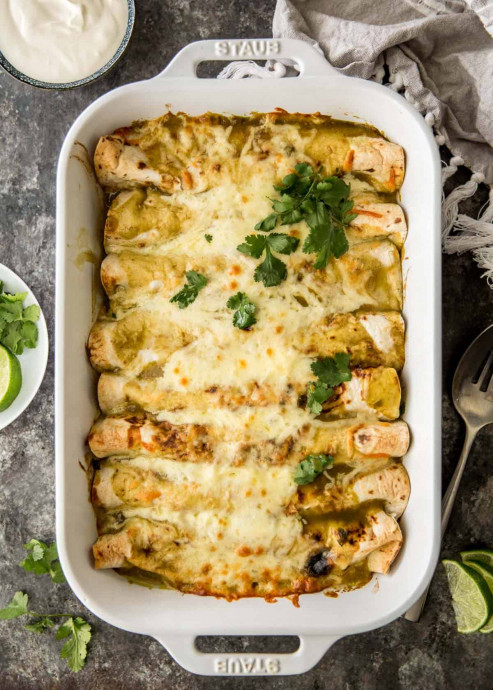 Filled with savory black beans, tender zucchini, and melty cheese, these vegetarian enchiladas are packed with plant-based protein and Tex Mex flavors. Make them ahead and refrigerate or freeze!
Loaded with tender zucchini and hearty black beans, these enchiladas are vegetarian meal that will fill you up and offer lots of nutrition too. Served with some chips and Slow Roasted Tomato Salsa, this is a great meal to share. Whether you use corn or flour tortillas to make your enchiladas is a matter of personal preference. As flour tortillas bake they get a softer more chewy texture while corn tortillas get a more crumbly, tender texture. Both types of tortillas will roll more easily if they are warmed up before using, but corn tortillas in particular, should be warmed up to prevent cracking.
No matter which type of tortilla you use, leave a few edges exposed (and not covered in enchilada sauce) on the top of the dish – the edges will get nice and crisp as the enchiladas bake. Try different variations! Add more veggies – Want to give these even more of a vegetable boost? Roast some broccoli or cauliflower along with the zucchini. Add in some frozen (defrosted) corn. Enchiladas are a blank slate for filling, so just about anything goes.
Add chicken – Add some pre-cooked chicken to the filling in addition to or in place of the black beans. Make it gluten-free – Use gluten-free corn tortillas and be sure that your enchilada sauce is certified gluten-free.
Ingredients:
1 lb Zucchini, cubed
1 Tbsp Cooking Oil
1 tsp Chili Powder (be sure to get chili powder, NOT cayenne)
1 tsp Ground Cumin
1 tsp Kosher Salt
1/2 tsp Dried Oregano
1 15 oz can Black Beans, drained and rinsed
2 cups Shredded Monterey Jack Cheese, divided
1/2 cup Sour Cream, plus more for topping
1 4.5 oz can Chopped Green Chilis, drained well (see note)
1 1/2 cups Green Enchilada Sauce, divided (see note)
8 8 inch Flour or Corn Tortillas
Fresh cilantro, for topping (optional)