Homemade Air Fryer Pizza Rolls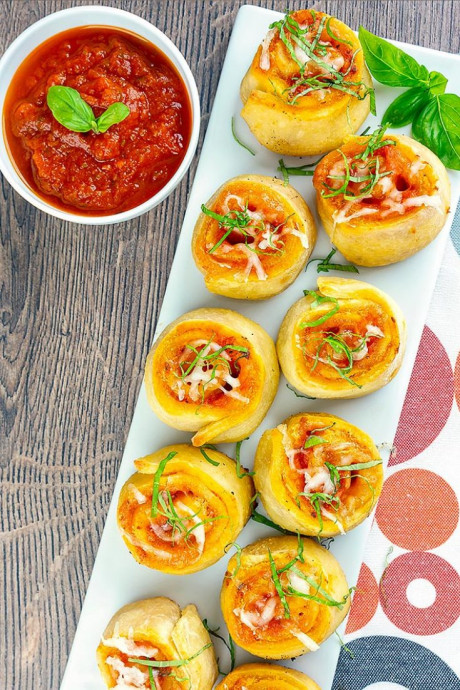 Just like mini handheld pizzas, these homemade air fryer pizza rolls are a favorite for snacking and lunches!
Pizza dough is filled with cheese and pepperoni (or your fave toppings) and rolled cinnamon bun style. Bake these in the air fryer (or the oven) until golden. Homemade air fryer pizza rolls are an easy to make snack or midday meal that both kids and adults will love! You can make these rolls up in less than a half hour and freeze them for later or store them in the refrigerator. Who needs delivery or frozen food when you can have tasty homemade pizza snacks so fast?
Pizza rolls are a convenient and tasty way to enjoy pizza at home, school, or work. They are simply sauce, cheese, and toppings rolled in a small section of dough. They are easy to pack in a lunch box for a healthy, warm school lunch and make for a great snack on the weekends. When you make pizza rolls at home, you have complete control over what you put in them and how you cook them. You can add extra veggies to give to your kids. You can also air fry them instead of deep-frying them. You can make these pizza bites at home with only a few ingredients. You can get many of them at your local store or make them at home.
Ingredients:
14 oz of ready-made pizza dough. You can also follow instructions for our homemade 2 ingredient pizza dough
2 cups mozzarella cheese
1 cup marinara sauce
2 tbsp butter
1 tsp garlic powder
Few basil leaves for garnish