Mixed Berry Shortcakes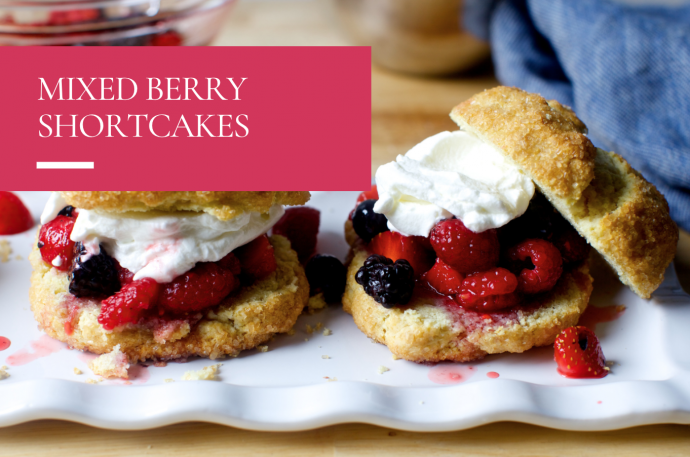 These Mixed Berry Shortcakes are such a beautiful and delicious dessert. A fun way to enjoy all the variety berries in a dessert as a shortcake. With this shortcake recipe, I am using strawberries, blueberries, blackberries, and raspberries, but you are free to use any mix of berries that you want. The shortcake is made from scratch, dense with a sweet flavor, that really soaks up the delicious juices from the berries. Coconut whipped cream is an excellent substitute for traditional whipped cream because it is much lighter and more flavorful. Cook it with your kids, it's fun! Enjoy!
Ingredients
For the cake
3 cups all-purpose flour
2 cups sugar
2 teaspoons baking soda
1 teaspoon salt
2 cups milk
1 cup vegetable oil
1⁄4 cup white or apple-cider vinegar
2 tablespoons pure vanilla extract
For the topping
3 cups fresh berries (sliced strawberries, blueberries, raspberries, or blackberries)
Whipped Cream or Coconut Whipped Cream
Directions
Step 1
Preheat the oven to 350 F. Lightly grease two 9-inch round cake pans and line the bottoms with parchment paper.
Step 2
In a large bowl, whisk together flour, sugar, baking soda, and salt. In a separate bowl, whisk together milk, oil, vinegar, and vanilla. Pour the wet mixture into the dry mixture and whisk until just combined. Do not overmix.
Step 3
Fill each prepared cake pan evenly with batter. Bake for 30 to 35 minutes, or until a toothpick inserted in the center of the cake comes out dry with a few crumbs clinging to it. Rotate the cakes halfway through baking time. Let the cakes cool completely before assembly.
Step 4
Once the cakes are completely cooled, run a knife around the inside edge of each cake pan to loosen, and gently unmold the cake. Peel off the parchment paper and slice the dome off the top of each cake for even assembly, if desired.
Step 5
Place one cake on a serving plate or cardboard cake circle. Spread a layer of whipped cream on top of the cake. Arrange half the berries on top of the whipped cream. Place the second cake on top of the first and spread a layer of whipped cream on top. Arrange remaining berries on top of the cake and serve.
Bon appetit!