Mini Chorizo Sloppy Joes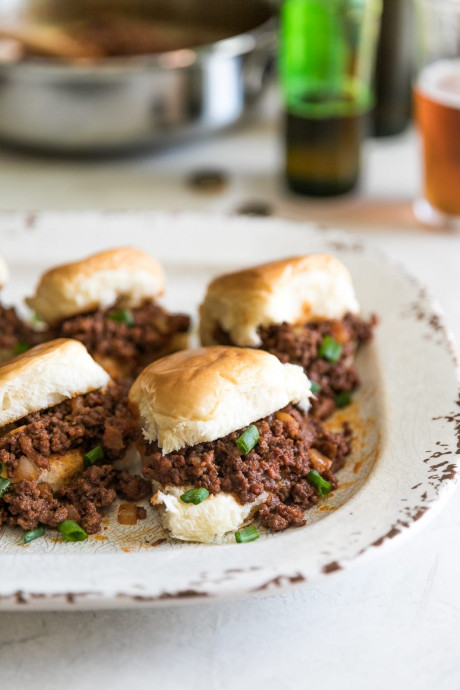 Sloppy joes with a delicious twist! Ground beef, Mexican chorizo, onions, and spices in sweet Hawaiian rolls. Perfect for game day or any day! Ah good ol' sloppy joes. Man, I hadn't made sloppy joes in almost a decade. I used to make them with ground turkey, with tomato paste with all the spices. It's basically a soupier picadillo. Like really soupy but obviously with different flavors. These are special joes. I wanted to make something that would be good for a random game day, friends gathering, the Big Game, or even a quick weeknight meal. But these mini chorizo sloppy joes are a great option for the next game day. And boy are they sloppy.
They come together VERY easy because well, that's my favorite type of recipe. So easy to make! Juat cook the meats. In a skillet, cook beef and chorizo together, over medium-high heat, until completely cooked. Drain. Cook the onions. Return skillet to the heat and add onions. Cook for 2-3 minutes or until onions are translucent. Add barbecue sauce and water. Simmer the meats with the onions. Reduce heat to low, simmer and stir occasionally, for 15-20 minutes until no longer soupy. Careful not to dry it out. Add salt and pepper to taste. Put it all together. Spoon meat mixture into the Hawaiian sweet rolls and garnish with green onions. Serve and enjoy!
Ingredients:
1 pound ground beef
3 links Mexican chorizo crumbled
1 large white onion diced
1/2 cup barbecue sauce
1/4 cup water
Salt and pepper to taste
12 Hawaiian sweet rolls toasted
Green onions for garnish optional