Berry Hand Pies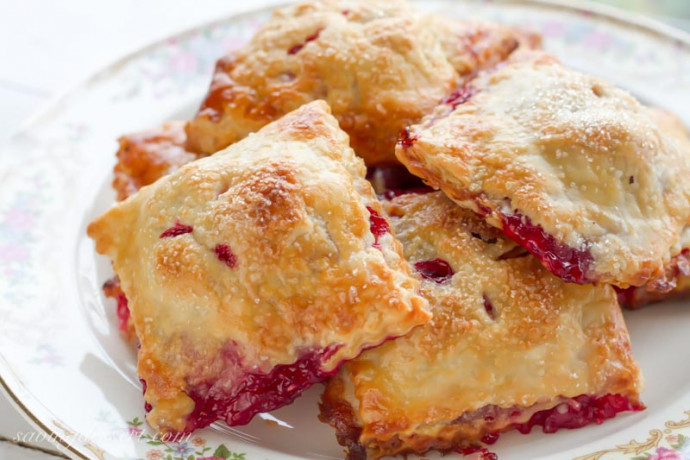 Individual pies you can eat with your hands, what fun! The rustic appearance and simple process makes this the perfect recipe for the novice baker. Oozing juices and crispy, flaky crust is the hallmark of these little gems so don't miss another berry season without giving these a try!
Somewhere hidden in my heart is the desire to write a cookbook about pies. They say getting started is the hardest part and to that I can attest. So of course I continue to research all kinds of pies and pie crust which is what really attracted me to this recipe. The tender, flaky crust is made with a touch of sour cream. Will I make it again? You bet!
These hand pies can be filled with any kind of fruit or combination of fruits. Mixed with some sugar and arrowroot (or cornstarch) this is simplicity at its best. Sprinkled with a little fine sanding sugar or turbinado sugar the crust takes on a lightly sweet crunch.I love this combination of blackberries and raspberries. There is so much sweet and tart flavor in each little pocket!
Ingredients:
1 tablespoon sour cream
1 tablespoon fresh lemon juice
2 tablespoons ice water, plus extra if needed
1 1/4 cups unbleached all-purpose flour, plus more for rolling
1/2 teaspoon coarse sea salt, divided
1/3 cup plus 1 teaspoon granulated sugar, divided
8 tablespoons cold unsalted butter, cut into small pieces
3/4 cup fresh blackberries
3/4 cup fresh raspberries
4 1/2 teaspoons arrowroot (or cornstarch)
1 large egg, lightly beaten
Sanding Sugar or Turbinado sugar for sprinkling