Roasted Beet Salad with Goat Cheese & Pistachios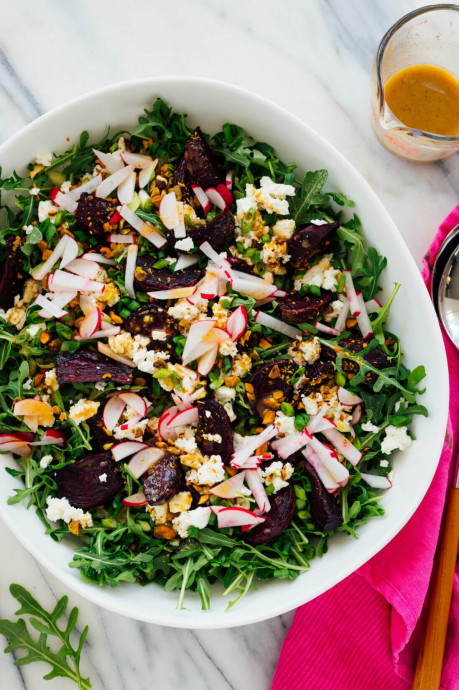 This roasted beet salad with greens is exactly what I'm craving right now. It's hearty, fresh and spring-y, which is perfect as the weather turns from downright arctic to patio-worthy. This recipe incorporates a go-to method for roasting beets, which yields amazing flavor. I used arugula as the base, which contrasts nicely with the earthy flavor of the beets. Then I added goat cheese and pistachios, plus some radish and green onion for extra freshness and some crunch. The zippy, Dijon-forward vinaigrette brings it all together. Serve this salad as a side dish or enjoy a large portion for a satisfying but light dinner.
Try delicious variations! You can roast the beets and prepare the dressing in advance, if desired. Both will keep well in the refrigerator for a few days before using. Assembly is simple. Just chop a few ingredients, crumble the goat cheese, and arrange the ingredients in a large serving bowl or platter. If you plan on having leftovers, dress individual servings as needed. If you pour in all the dressing at once, the arugula will wilt and won't keep as well. You may have some extra dressing. Use it on any improvised green salad or toss it with leftover roasted vegetables. This salad features goat cheese, pistachios and arugula with a zippy Dijon dressing. Recipe yields 4 to 6 side servings.
Ingredients:
Salad
1 ½ pounds beets (about 3 large or 5 small-to-medium)
1 tablespoon extra-virgin olive oil
¼ teaspoon fine salt, to taste
5 ounces (5 heaping cups) arugula
4 ounces goat cheese, crumbled
⅓ cup shelled toasted and salted pistachios, chopped, or ½ cup pepitas (green pumpkin seeds), toasted*
4 medium radishes, thinly sliced and roughly chopped (about ½ cup)
⅓ cup chopped green onion
Dressing
¼ cup extra-virgin olive oil
2 tablespoons sherry vinegar or red wine vinegar
1 tablespoon honey
1 tablespoon Dijon mustard
¼ teaspoon fine sea salt
Freshly ground black pepper, to taste