Easy Bourbon Chicken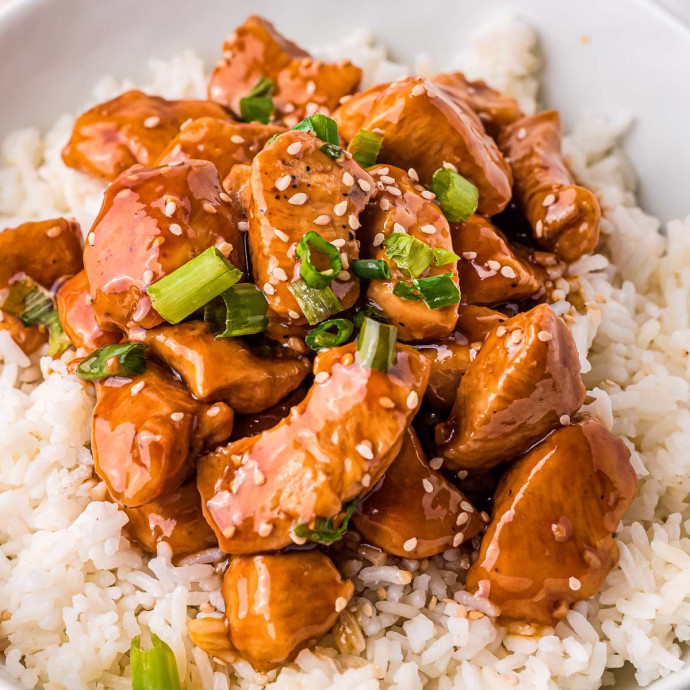 This recipe for Bourbon Chicken is so easy to make, with tender, juicy bites of chicken and a gloriously sweet and sticky sauce that clings to each bite. Make it in just 30 minutes, and you'll have a weeknight dinner the whole family will love! Skip the takeout and make your Asian-style dishes at home! Not only are they super easy to make, they taste so much better.
This recipe hits all those flavor notes of a traditional bourbon chicken (like the bourbon chicken from the food court at the mall!), but without any breading, frying, and a sauce with who knows what in it.
From beginning to end, this recipe will take about 30 minutes, or even less if you prep ahead! Definitely check out my "Making bourbon chicken ahead of time" section for my prep ahead tips. I'm all about prepping ahead whenever I can! I love to serve this bourbon chicken with some fluffy white or jasmine rice and some steamed broccoli, but you can serve it up any way you want… it's your meal.
Ingredients:
Chicken
1 1/2 lbs. boneless skinless chicken breasts sliced into bite sized pieces
1 1/2 Tbsp cornstarch
1/4 tsp kosher salt
1/4 tsp black pepper
3 Tbsp vegetable oil (canola or peanut are good substitutes) divided
3 cloves garlic minced
1 Tbsp grated fresh ginger (3/4 tsp dried ginger can be substituted)
Sauce
1/2 cup water
1/2 cup reduced sodium soy sauce
1/4 cup bourbon
1/4 cup reduced sodium chicken broth
3 Tbsp apple juice
2 1/2 Tbsp ketchup
1 Tbsp rice vinegar (apple cider vinegar is a good substitute)
1/2 cup packed light brown sugar
1/4 tsp onion powder
1/4 tsp red pepper flakes
Slurry (to thicken sauce)
1 Tbsp cornstarch
1 1/2 Tbsp cold water