Sesame Vegetable Noodles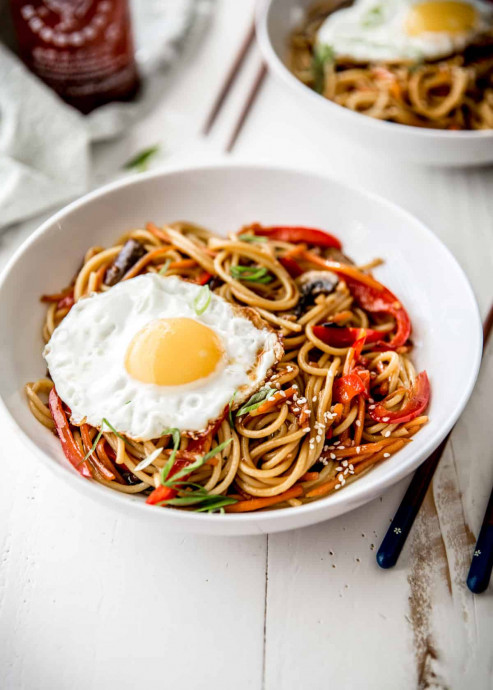 These saucy Sesame Vegetable Noodles are a versatile side dish for any Asian-inspired meal. Or add a fried egg on top for a satisfying and easy vegetarian dinner!
Packed with vegetables and wrapped in a savory ginger and sesame sauce – this noodles recipe is just what you need for a perfect dinner. A fried egg. Cook the egg so that the yolk is still a bit runny and it will add to the saucy, creaminess of the dish. If you are making these noodles in a wok and want to serve them with the fried egg on top, treat yourself to a wok-fried egg. I learned how to make a wok-fried egg by watching many of them being cooked by street vendors in Thailand. The process is incredibly simple – just crack an egg into a shallow pool of hot oil at the bottom of the wok. But the result is a bit of magic. The edges get super crisp and lacy while the yolk stays perfectly runny. These noodles are really a blank slate for vegetables. Just about anything you have on hand will work – just be sure to adjust the cooking time as needed to cook them until they are nice and tender.
If you want to serve these sesame vegetable noodles as a side dish, they're great that way too – just skip the egg. Everything comes together in one pan in under 30 minutes.
Ingredients:
For Sauce:
2 cloves Garlic, chopped
1 tsp grated Fresh Ginger
1/4 cup Low-Sodium Soy Sauce (see note)
1/4 cup Water
1 Tbsp Dark Brown Sugar (can use light brown sugar as a substitute)
1 Tbsp Rice Vinegar
1 Tbsp Cornstarch
2 tsp Toasted Sesame Oil
For Noodles:
8 oz Spaghetti (sub any type of noodles, soba, dried ramen, etc.)
2 Tbsp Cooking Oil
2 Portobello Mushrooms, thinly sliced
5 oz Shredded Carrots (I like to buy pre-shredded)
1 Red Bell Pepper, thinly sliced
2 tsp White Sesame Seeds
4 Eggs
Chopped Green Onions, for serving
Sriracha or other hot sauce, for serving (optional)