Cheesy Hash Brown Breakfast Casserole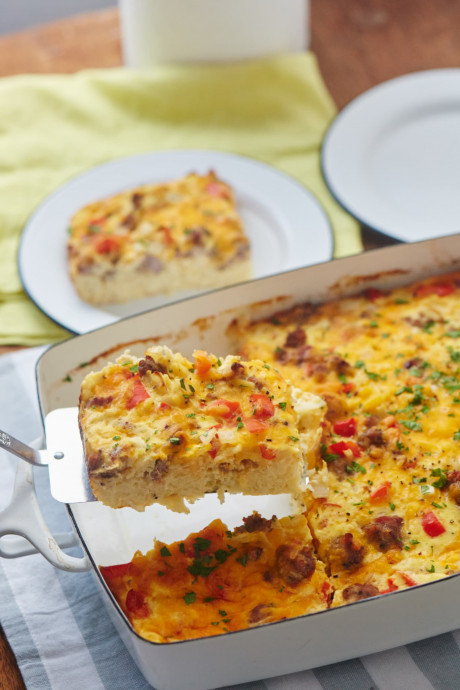 This is the golden ticket of egg casseroles. It treats you to all the best parts of the breakfast plate in a single bite. In many ways it's the only recipe I really need and want in my breakfast casserole lineup. Not only does it take well to customization (you can use any meat or cheese as a mix-in), but the egg base is also super creamy — thanks to a secret ingredient.
Like many things in life, the key to making a really great breakfast casserole is beginning with a strong foundation. This version makes that happen by blending in sour cream. Used in addition to milk, it delivers the most lush and creamy eggs, with a subtle tangy twist that keeps this dish from tasting too much like just eggs and cheese.
Because the tried-and-true classics are so reliably delicious, we loaded this hash brown casserole with ground breakfast sausage and grated sharp cheddar. But that isn't the only meat and cheese combo that works here.
If you're feeling inspired, go ahead and swap out the breakfast sausage for crumbled Italian sausage, spicy chorizo, ground turkey, or any other favorite. The same goes for the cheese. When swapping cheddar for another choice, use a cheese that melts easily, like Monterey Jack, Gruyère, Fontina, or Gouda.
Ingredients:
Cooking spray or oil
1 tablespoon olive oil
1 pound uncooked breakfast sausage, casings removed
1 medium onion, diced
1 medium red bell pepper, cored, seeded, and diced
3/4 teaspoon kosher salt, divided
1 (20-ounce) bag frozen shredded potatoes (do not thaw)
10 large eggs
1 cup sour cream
1 cup whole or 2% milk
2 tablespoons Dijon mustard
1 1/2 cups shredded sharp cheddar cheese (about 6 ounces)
1/4 teaspoon freshly ground black pepper