Thai Style Crab Fried Rice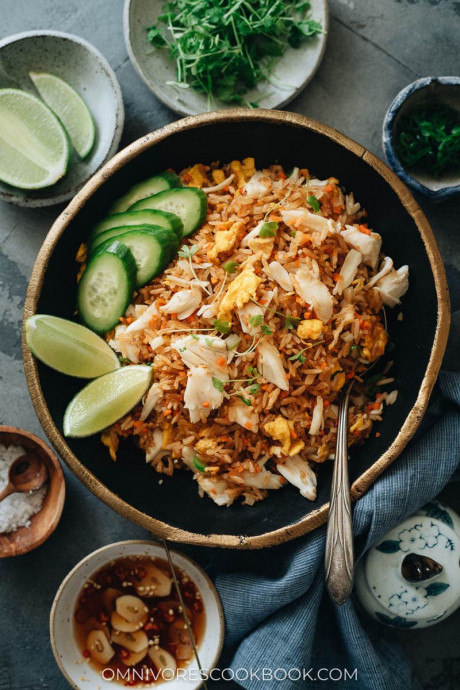 Crab Fried Rice is a classic and much beloved Thai dish, characterized by its delicate flavors. For something ultra-delicious in minutes, try this crab fried rice for a one-pan meal that is bursting with delicate seafood flavor! Ever get in one of those moods where you want something that truly satisfies your craving for a luxe meal without all the fuss? I know I do, which is why you're going to love this crab fried rice recipe. You only need one pan, too, which means cleanup is just as breezy as putting this together.
With this crab fried rice, the rice is lightly seasoned so that it won't take away from that delicate crab flavor. It's for this reason that I served it with a side sauce. Don't be fooled by the lengthy ingredient list. It's mostly items you'll already have on hand, with just a few you'd need to plan on picking up from the store. It comes together so easily that you'll have it prepped in 10 minutes, and it's just another 5 minutes until it's ready. This Thai crab fried rice is quite light and refreshing, yet satisfying. No matter whether you're a seafood lover or simply want a light yet filling one-pot dinner, this is a perfect option for you.
Ingredients:
2 tablespoons vegetable oil
4 cloves garlic , minced
2 eggs , beaten
3 cups day-old long grain rice (*Footnote 1)
1 tablespoon light soy sauce (or regular soy sauce)
2 teaspoons fish sauce
1 teaspoon sugar
1/4 teaspoon white pepper
1 tablespoon unsalted butter (*Footnote 2)
1 can (6-oz / 170 g) lump crab meat , drained (yield 1/2 cup)
1/3 cup finely diced carrots (or frozen carrots) (*Footnote 3)
1/4 white onion , finely chopped
2 green onions , sliced (or 1/2 small white onion, diced)
Side Sauce
1 tablespoon fish sauce
1 1/2 teaspoon lime juice
1 clove garlic , sliced
1 bird's eye chili , sliced (or 1/2 small serrano pepper)
1/2 teaspoon sugar
Garnish (Optional)
1 persian cucumber , sliced on a bias
1 lime wedge
Sprig of cilantro