Baked Chicken Empanadas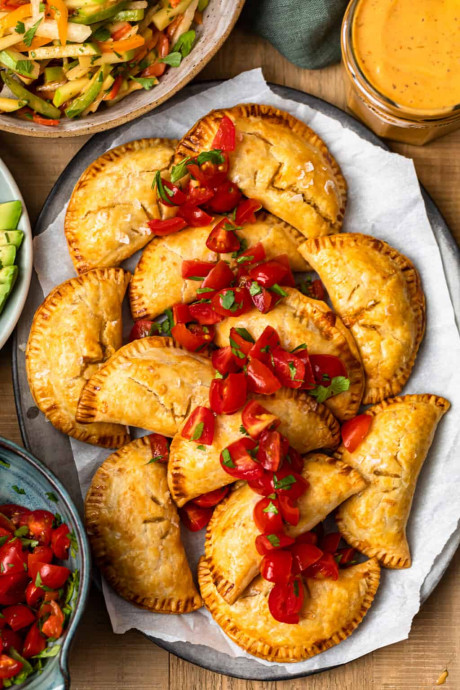 Cheesy baked chicken empanadas are absolutely delicious and surprisingly easy to make. These are the perfect party food, or a fun and easy dinner! Chicken empanadas are the perfect handheld size for parties, appetizers, and quick meals. These easy baked chicken empanadas are filled with lots of cheese, chicken, scallions, and some spices for an amazing flavor.
Whether you serve these for a quick dinner, a Cinco de Mayo party, or on game day, you'll see them disappear in the blink of an eye! Why you'll love this Easy Chicken Empanadas recipe:
Perfect size: these are easy to hold and eat on the go, which makes them a great party food. Baked not fried: baked empanadas are a little bit lighter, and a lot easier to make in big batches. Easy recipe: this recipe couldn't be simpler. The filling is easy to make, and pre-made dough means it's hassle-free.
Ingredients:
4 ounces cream cheese softened
2 ounces Queso Fresco softened
1 teaspoons chili powder
½ teaspoon ground cumin
¼ teaspoon crushed red pepper flakes
½ cup shredded Pepper Jack
2 scallions thinly sliced
1 cups shredded or cubed cooked chicken
2 Pillsbury Pie Crusts or Homemade
1 egg
1 teaspoon water
Topping:
Serve with:
Apple Jicama Slaw with Honey-Chipotle Vinaigrette
Sliced avocadoes
Diced fresh tomatoes