Matzo Icebox Cake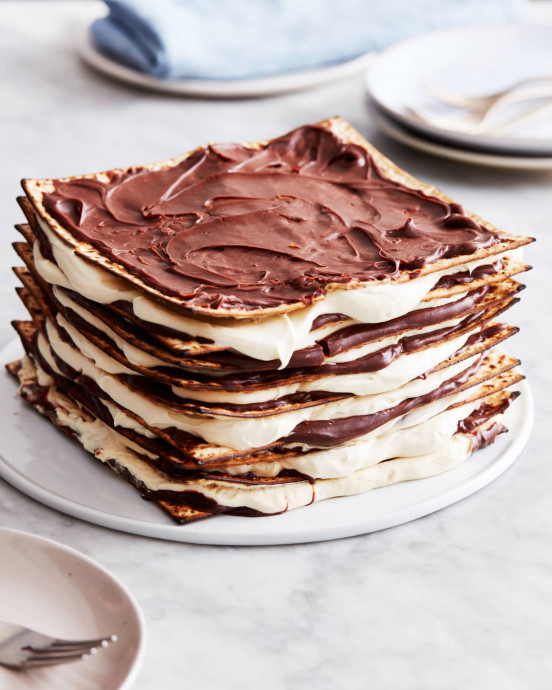 This is a super simple and amazing chocolate cake! While most people opt to layer the soaked matzos with straight-up ganache, melted chocolate, mousse, or pudding, I took inspiration from the iconic black and white cookie, which boasts the perfect balance of chocolate and vanilla and looks visually striking, too. So I soaked my matzos not in wine but in warm milk, and then layered them with ganache and lots of vanilla-scented whipped cream. The result is otherworldly.
You'll assemble this cake directly on the platter you'll serve it on, which makes it look impressive yet fun, with its tall stature, perfectly square shape, and "naked" look, in which every layer of cream and chocolate is visible in all of its oozy, drippy glory. The whole shebang gets popped in the fridge post-assembly for at least eight hours (and up to 24) to set up, making this a make-ahead dessert of the finest caliber. The matzos never transform into something quite as pillow-y and spongy as cookies and graham crackers do when layered in an icebox cake, but the little chew they retain is wonderful with the soft, creamy textures of the whipped cream and chocolate.
Yes, the cake is large, as it calls for an entire box of matzos, but it lasts for three days once sliced, and leftovers are superb. Or you can halve it or freeze the leftovers, but the cake will get eaten — I guarantee it.
Ingredients:
For the milk chocolate ganache:
20 ounces milk chocolate, coarsely chopped (about 4 cups)
1 1/4 cups heavy cream
3/4 teaspoon kosher salt
For the vanilla whipped cream:
1 quart (4 cups) cold heavy cream
3/4 cup powdered sugar
1 tablespoon vanilla extract
For the milk soak:
2 cups whole milk
1 (10-ounce) box matzo crackers (9 sheets)