Baked Mac & Cheese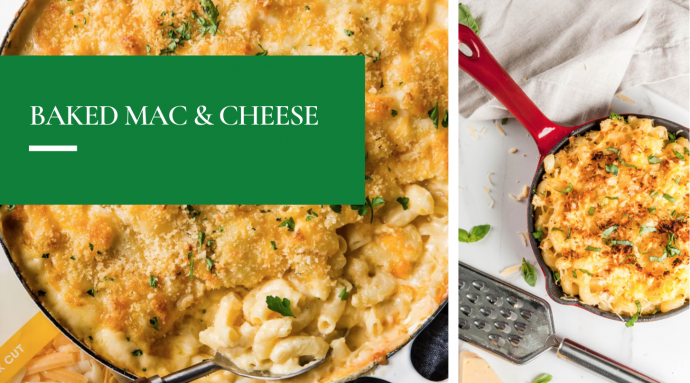 This ultimate baked Mac & Cheese recipe is a throwback to a childhood classic with an extra cheesy, velvety sauce and topped with an irresistible golden, buttery breadcrumb topping. And of all the Mac and Cheeses in the world, this is my very favorite. A great one for serving at gatherings! Hope you will like it, too! Enjoy!
Ingredients
8 oz macaroni (elbow pasta)
3 tbsp unsalted butter
2/3 cup panko breadcrumbs (Panko breadcrumbs are larger pieces than normal breadcrumbs which creates a really nice extra crunchy topping. It can be found in the Asian section of supermarkets or you can make them at home. You can also use normal breadcrumbs.)
1/4 tsp salt
For the sauce
4 tbsp unsalted butter
1/3 cup all-purpose flour
3 cups milk, warmed (low or full fat)
2 cups shredded cheese (I like Gruyere, Cheddar and Colby)
1 cup shredded mozzarella cheese, or more other cheese of choice
3/4 tsp salt
1 tsp garlic powder
1/2 tsp onion powder
1/2 tsp mustard powder
Directions
Step 1.
Bring a large pot of water to the boil. Add macaroni and cook per packet directions minus 1 minute. Drain, return pasta to pot, add butter and toss until melted. Set aside to cool while making the Sauce.
Step 2.
Mix together panko breadcrumbs, 2 tbsp butter and salt. Set aside.
Step 3.
Preheat oven to 350°F.
Step 4.
In a large saucepan or in an ovenproof skillet (I use my 9" cast iron skillet), melt butter over medium heat. Add flour and cook, stirring constantly, for 1 minute.
Step 5.
Add about 1 cup of the milk and mix to dissolve the paste into the milk. Then add remaining milk and mix until lump free (use whisk if required). Mix in salt and seasonings if using.
Step 6. Cook, stirring/whisking regularly, for 5 - 8 minutes until thickened to a cream consistency. When the sauce coats the back of a wooden spoon, you should be able to draw a path with your finger. Remove from stove, add cheese and stir - cheese doesn't need to melt. Adjust salt to taste.
Step 7.
Pour sauce into pot with pasta. Stir quickly, then pour back into the skillet or a baking dish. Sprinkle with breadcrumb topping.
Bake for 25 minutes or until top is light golden. Don't bake too long otherwise you'll bake away the sauce. Serve immediately! I sprinkled mine with a bit of fresh parsley.
Bon Appetit!