Simple Almond Butter Blossoms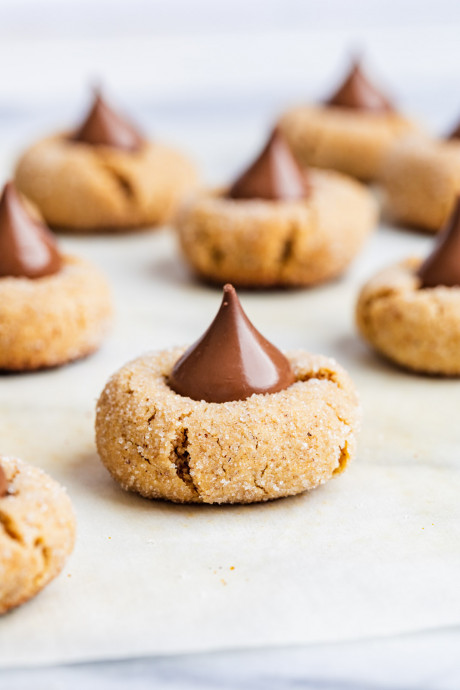 Soft and chewy with a chocolate center - a classic cookie loved by all. These cookies go by so many names and are most often made with peanut butter. They are often called PB kiss cookies, thumbprint Hershey kisses cookies and the list goes on. Whatever the name - they are delicious and are so good with PB or as I made them here using almond butter.
These are so simple to make. They are one of my favorite kind of recipes - bowl and spoon kind of recipes. They whip up in no time and the dough doesn't need any resting time - they literally can be made in 15 minutes start to finish. You definitely can't beat that. Rolling them in sugar before they bake is totally option, but I love the extra bit of texture they add to the cookies.
Ingredients:
2 cups Super-Fine Almond Flour
½ tsp sea salt
½ tsp baking soda
¼ tsp baking powder
¼ tsp cinnamon
¼ cup almond butter
2 tbs coconut oil
¼ cup coconut sugar or brown sugar
2 tbs pure maple syrup or honey
2 tbs almond milk or any milk
1 tsp pure vanilla extract
¼ cup granulated sugar for rolling cookies in
20-22 chocolate kisses unwrapped