Thai Peanut Noodle Salad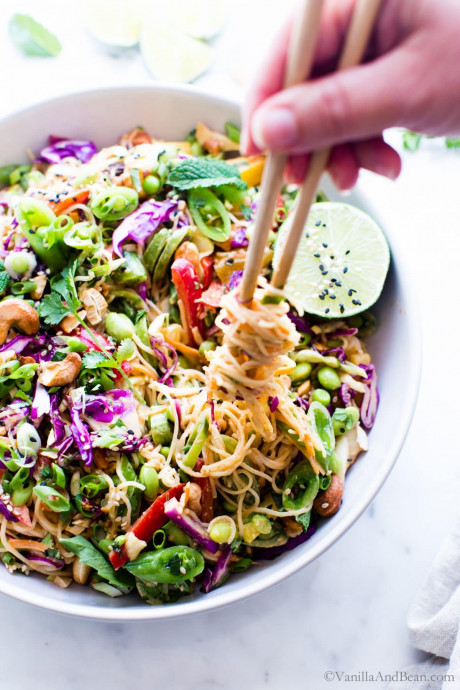 Packed with crunchy veggies, edamame, rice noodles and a scrumptious garlicky, gingery peanut-lime dressing, this Thai Peanut Noodle Salad recipe is make ahead ready and simple to pull together! This recipe is vegetarian, vegan and gluten-free. What I love about Thai food is that it's fresh, umami packed and is easily plant focused.
While the crunchy veggies and noodles shine in this cold peanut noodle recipe, it's the totally mouthwatering Thai peanut salad dressing/sauce that ties the textures and flavors together. The dressing is garlicky, gingery, peanutty, with just a touch of sweet and has that mouthwatering umami I'm forever after. Load up on the most colorful and favorite Thai inspired veggies. Thin or wide rice noodles (rice vermicelli or rice stick noodles) work beautifully for this salad. This recipe calls for Tamari in the Thai peanut dressing, which is naturally gluten-free. However, soy sauce can be used if desired.
Ingredients:
For the Salad
1/2 C (65g) Cashews or peanuts
1 C (140g) Edamame frozen
4 oz (110g) Rice Stick Noodles
1-2 tsp Sesame Oil optional, *see note
1 1/2 C (155g) Red or Yellow Bell Pepper about 1 large, I like to mix red and yellow
1 C (45g) Carrots shredded
3 C (190g) Cabbage green and purple mixed, shredded
1 C (100g) Sugar Snap Peas or snow peas, sliced into bite size pieces on the bias
1/2 C (30g) Green Onions sliced thin on the bias
Herbs such as Thai basil, mint and cilantro use to taste - I like a combo of all three, fine chop about 4 Tbs. Use whole leaves to garnish.
For the Dressing
1 inch (2.5cm) Nub Fresh Ginger peeled
2 Plump Cloves of Garlic
6 Tbs (100g) Peanut Butter smooth, natural
2 1/2 Tbs Lime Juice from about one lime
3 1/2 Tbs Tamari soy sauce may be used if desired
2 Tbs Maple Syrup or honey
2 tsp Sriracha or 1/4 tsp red chili flakes
3-4 Tbs Hot Water to thin the dressing