Banana Pudding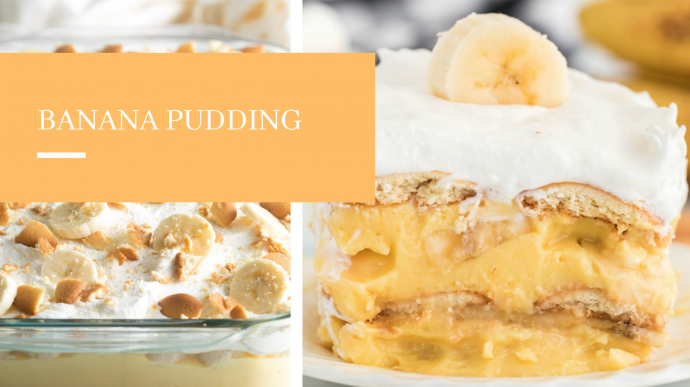 This homemade banana pudding recipe makes the creamiest and most flavorful banana pudding ever! Layered with bananas and sweet vanilla wafer cookies, this Southern dessert recipe is hands down the best banana pudding. If you've never made homemade pudding before, you might not realize how insanely easy it is to make. If you have 15 minutes, you can have this pudding chilling in your fridge. It's that fast!
A quick tip before we start: make sure you're starting with soft, just-ripe bananas. If you get bananas that are too ripe, they're likely to brown much quicker.
Ingredients
3 eggs
3/4 cup sugar
1/4 cup all-purpose flour
1/4 tsp salt
3 cups milk (I used 2%)
1 1/2 tsp vanilla extract
14 oz can sweetened condensed milk
1 1/3 cup heavy whipping cream, cold
6 tbsp powdered sugar
1 tsp vanilla extract
8 oz vanilla wafers (about 60 cookies), divided
4 large bananas, cut into 1/4-inch slices
Directions
Step 1
In a small bowl, whisk the eggs together, set aside.
Step 2
In a large saucepan combine sugar, flour and salt. Whisk in the milk. Cook and stir over medium heat until it's beginning to thicken and it just begins to bubble. Once it begins to bubble, reduce heat to low. Cook and stir for 2 more minutes, then remove from heat.
Step 3
Slowly pour a small amount of the milk mixture into the eggs, whisking constantly so that the eggs don't scramble.
Step 4
Pour the entire mixture back into the pan and whisk constantly. Bring back to a gentle boil over medium-low heat, then reduce heat to low.
Step 5
Cook while stirring for 2 more minutes, then remove from heat. Stir in 1 ½ teaspoons of vanilla extract. Keep in mind that the pudding thickens as it cools, so you don't need it to be super thick before you remove it from the heat.
Step 6
Allow pudding to cool for about 15 minutes, stirring occasionally.
Step 7
Add the sweetened condensed milk to the pudding and allow it to continue to cool. The pudding will naturally thin out a little after you add the milk, it's ok.
Step 8
When the pudding cools to about room temperature, make the whipped cream. Add the heavy whipping cream, powdered sugar and remaining teaspoons of vanilla extract to a large mixer bowl and whip on high speed until stiff peaks form.
Step 9
Gently fold the whipped cream into the pudding in two part.
In an ungreased 9×13 baking dish, the banana slices and then the pudding, adding a layer of vanilla wafers in between. Cover and refrigerate overnight. Serve with a cup of coffee! Bon Appetit!