Scrambled Chickpea and Spinach Pitas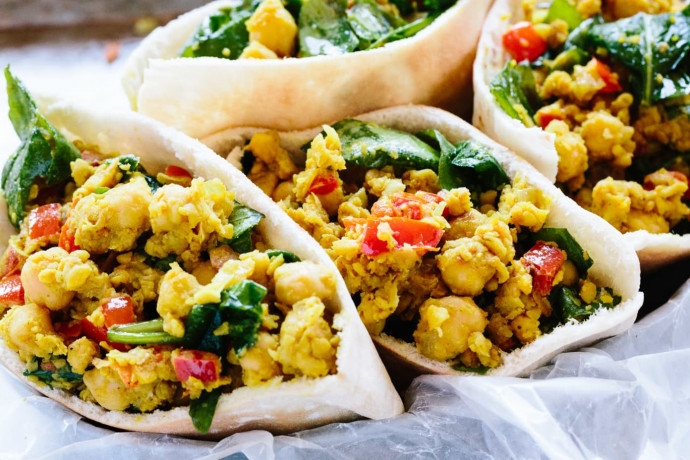 For a vegan breakfast sandwich that will power you through the morning, look to this pita pocket stuffed with a blend of spiced chickpeas and sautéed veggies. It's prepared in advance, then stashed in the freezer, ready to be reheated in the oven while you buzz through your morning routine. To get the right texture for this filling, half the chickpeas are mashed before they are sautéed in coconut oil along with cumin, turmeric, garlic powder, and veggies like spinach and red bell peppers.
Made in a big batch, these freezer-friendly breakfast sandwiches are your solution to an easy and satisfying hot breakfast on even the most hectic weekday mornings. Because you're putting in the work to prepare breakfast in advance, you deserve to get the most out of your efforts. All these sandwiches will take you through well over a week of breakfasts.
Ingredients:
6 (15-ounce) cans garbanzo beans, drained and rinsed
1/4 cup coconut oil
1 medium onion, diced
2 medium red bell peppers, cored, seeded, and diced
2 1/2 teaspoons ground cumin
2 teaspoons ground turmeric
1 teaspoon garlic powder (no salt)
1 teaspoon kosher salt
6 cups baby spinach, coarsely chopped
6 regular-sized pita breads, halved to form half moons