Cinnamon Pancakes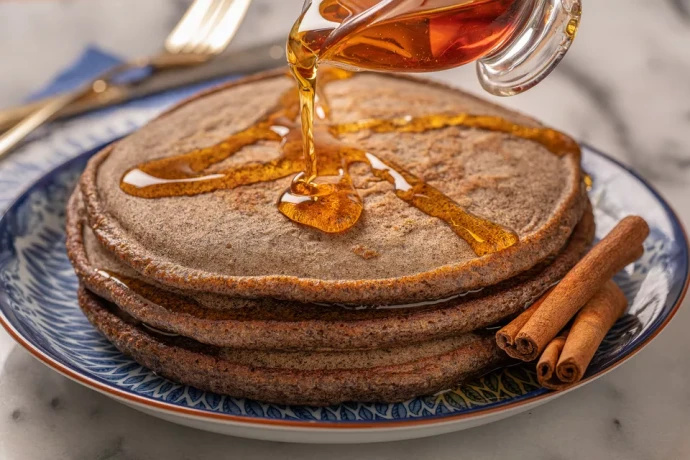 Sunday morning will never be the same! These cinnamon pancakes feature a unique combination of all-purpose and buckwheat flours in the batter. The buckwheat imparts a rustic, hearty flavor and gives the pancakes a beautiful deep brown hue. A dash of cinnamon adds spice and is the perfect balance to the nutty buckwheat.
Buckwheat flour is ground form of a pseudo cereal called buckwheat. We often think of buckwheat as a grain, but it is not a cereal or grass. In fact, it is actually a fruit that is closely related to wild rhubarb. Buckwheat is also an impressive nutritional powerhouse. It is high in fiber, protein, niacin, amino acids, and vitamin D. It is also rich in potassium, phosphorus, iron, and calcium. The protein in buckwheat is said to be one of the best sources of protein available from plants, and it contains all the essential amino acids. Buckwheat is also good for the cardiovascular system. It is linked to lower blood pressure and a lowered risk of developing high cholesterol because it is rich in flavanoids. Buckwheat also contains high levels of magnesium which helps relax to blood vessels while improving blood flow. In addition, the nutrients in buckwheat also help to control blood sugar levels.
Don't forget a hearty pour of pure maple syrup just before serving. These pancakes are outstanding when served with the real deal. Feel free to add a pat of warm butter as well. Weekend brunch is the time to splurge!
Ingredients:
1 cup buckwheat flour
1 cup all-purpose flour
2 tablespoons sugar
4 teaspoons baking powder
2 teaspoons cinnamon
1/2 teaspoon salt
2 cups whole milk
3 tablespoons vegetable or canola oil
2 large eggs
Additional oil for pan
Pure maple syrup (for serving)