Russian Napoleon Cake (Napolyeon Tort)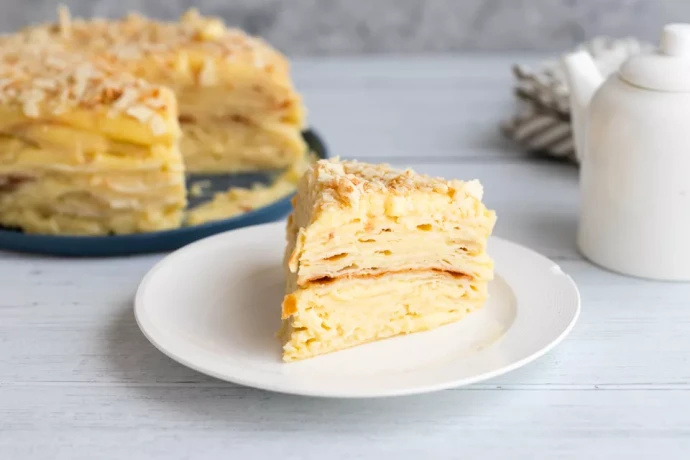 Napoleon cake is one of Russia's national desserts made with up to 16 layers of crispy pastry filled with creamy custard. It resembles French mille-feuille but with more layers of alternating custard and pastry. Exact recipes can vary a bit from cook to cook—this Napoleon cake recipe yields a 10-layer cake to save a little time and avoid the potential pitfalls of a taller confection.
It's a bit time-consuming to make, but the rewards of a soul-satisfying dessert are so worth it. It's an impressive cake that is sure to impress your guests. You will be left with several egg whites, but don't toss them out. Make an egg white omelet or two and a delicious meringue for pie.
Ingredients:
For the Pastry Layers:
2 ounces (1/4 cup) unsalted butter, softened
1 tablespoon granulated sugar
1 cup sour cream, room temperature
2 large room temperature egg whites, stiffly beaten
1 tablespoon vodka
1 pinch kosher salt
2 1/2 cups (180 g) all-purpose flour
For the Custard Filling:
5 cups whole milk
10 large egg yolks, room temperature
1 large egg white, room temperature
2 1/2 cups granulated sugar
6 tablespoons all-purpose flour
8 ounces (1 cup) unsalted butter
1 tablespoon pure vanilla extract