Mango Raspberry Macarons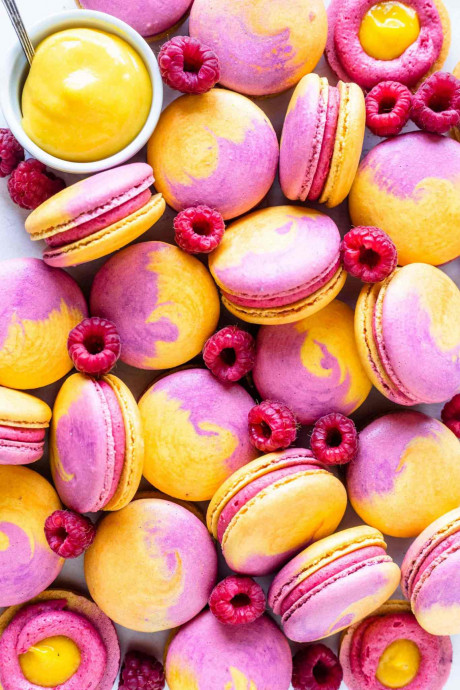 These Mango Raspberry Macarons also feature a swirl shell that is pink and yellow. The swirl in the shells is such a fun design to make! For the filling I chose to go with a Mango Curd, surrounded by Raspberry Buttercream. Making the curd is super easy, but here are a few tips: Puree the mango until there are no more large chunks in it. I like to beat the butter with the sugar, eggs, pulp, before adding to the pan and cooking, this prevents the eggs from curdling since we aren't using a double boiler method. And since we aren't using the double boiler method, make sure to use a pan with a heavy bottom, and keep the heat on LOW, while stirring non-stop once you are cooking the curd. Don't ever let the curd come to a boil or go over 170ºF.
If you notice any chunks of curdled egg, you can strain the curd, but the taste might still become slightly eggy. The lemon juice won't make the curd taste like lemon, but it will enhance the mango taste. Let the curd chill thoroughly before using. It's more convenient to buy the powder than to make your own, but if you are not going to use a lot of it, it's not worth it buying the powder, and just cheaper and less wasteful to buy the whole freeze-dried raspberries. Brush a layer of melted white chocolate on the bottom of the shells, and let it dry before filling the shells. The chocolate will create a barrier between the filling and the shells. A seriously delicious combination!
Ingredients:
Macaron Shells
4 grams egg white powder
100 grams white granulated sugar
100 grams egg whites
105 grams almond flour
105 grams powdered sugar
A few drops of pink purple, yellow, and orange gel food coloring
Mango Curd
3 tablespoons unsalted butter 42 grams
3 tablespoons granulated sugar 36 grams
1/4 teaspoon fine sea salt
2 large egg yolks
1/4 cup mango pulp 62 grams
1 tbsp lemon juice
Raspberry Buttercream
4 tbsp unsalted butter softened 56 grams
1 1/2 cups confectioners' sugar sifted 187.5 grams
1/3 cup freeze dried raspberry powder about 30 grams
2 to 4 tbsp milk or water as needed