Chicken Gyro Meatball Salad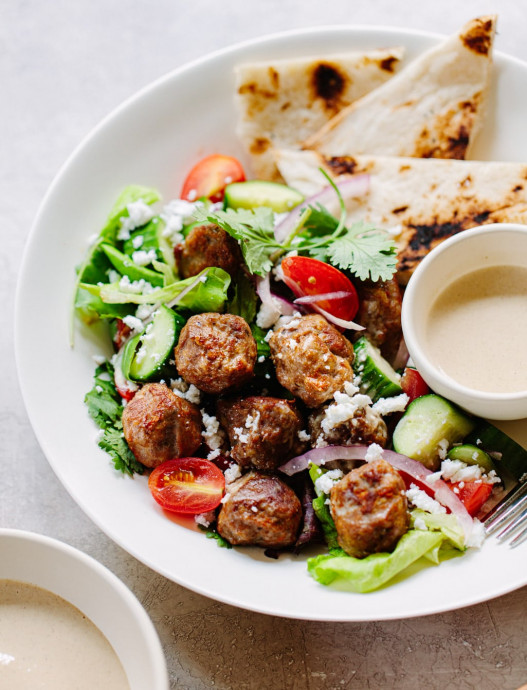 This healthy gyro salad with spiced chicken meatballs and chopped fresh vegetables makes a perfect low-carb, gluten-free or ketogenic main dish. This chicken gyro salad celebrates the fantastic flavors of a Greek gyro sandwich, only lightened-up and made into a salad. It's a super-tasty meal-in-one salad I've been happily enjoying as a complete meal these days.
And bonus – it's so easy to put together, especially if you make a batch of the meatballs ahead of time. You might be happy to know this creation is also low carb, keto-friendly and gluten-free (just skip the pita on the side) — basically an all-around healthy plate. Gyros are one of the tastiest sandwiches in the world, don't you think? The classic gyro features pita stuffed with spiced rotisserie-roasted meat, tomato, onions and tangy yogurt tzatziki sauce. Yum! But instead of the meat you'd find on a gyro platter (usually beef or lamb, in loaf form), this salad has bite-size meatballs made with ground chicken and seasonings.
Ingredients:
Meatballs
1 pound (450 g) ground chicken thigh meat
1/4 cup (40 g) grated onion
2 teaspoons finely chopped or grated fresh garlic
1 tablespoon (15 g) ground cumin
1 tablespoon (15 g) dried oregano
1 tablespoon (15 g) ground paprika
1 1/2 teaspoons kosher salt
1/2 teaspoon cayenne pepper
Tahini Dressing
1/4 cup (60 ml) fresh lemon juice
1/2 teaspoon salt
1 garlic clove, finely chopped
1/4 cup (60 ml) tahini paste
1/4 cup (60 ml) cold water
3 tablespoons (45 ml) extra-virgin olive oil
Salad
5 ounces (140 g) baby salad greens or torn butter lettuce
3 baby Persian cucumbers, sliced into 1/2-inch chunks
1 pint (310 g) cherry tomatoes, halved or quartered
1 cup seeded and chopped red bell pepper
1/2 red onion, sliced into thin half-moons
3/4 cup (115 g) crumbled feta cheese
Pita bread or flatbread, for serving