Grilled Peach and Burrata Salad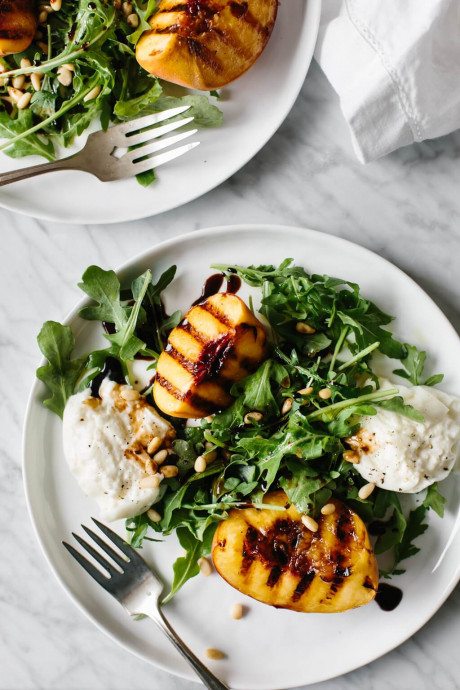 Grilled peach and burrata salad is so delicious and simple. The mix of grilled peaches, creamy burrata, arugula, pine nuts and balsamic is perfection. When it comes to summer salads, this one's a winner. If you have an outdoor grill to grill the peaches, give them a smoky flavor. But as I'm currently without an outdoor grill, I just grilled them up in my cast iron grill pan. Coat the peaches with a little butter or ghee and a sprinkle of coconut sugar so they get all caramelized on the outside.
While the peaches are grilling up, make a quick balsamic reduction. Of course, you can skip this step, but I personally love a thick and sweet balsamic syrup. Add some arugula to a plate along with a couple of peach slices, a dollop or two of burrata and a sprinkle of pine nuts. Drizzle a little olive oil and your reduced balsamic on top and finish it off with a little cracked pepper. Voila. Surprisingly, you could even make this salad dairy free if you'd like, and it'll still taste fab. Just coat the peaches in olive oil before grilling and instead of using burrata, add a dollop of vegan cashew ricotta.
Ingredients:
8 oz burrata cheese
3 peaches
1 tbsp butter or ghee
1 tbsp coconut sugar
1/2 cup balsamic vinegar
4 cups arugula
1/4 cup pine nuts
1/4 cup olive oil
black pepper, to taste