Chewy & Soft M&M Cookies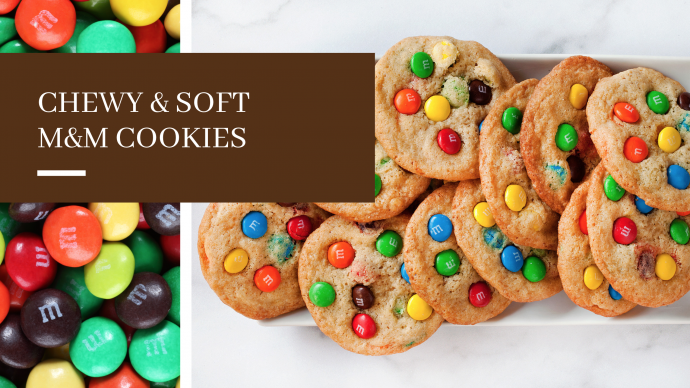 These fun and colorful cookies are so easy to make and so delicious, that they are family favorite for any age! Brown sugar gives them a satisfying chewiness, and the M&M's candy coating provides a pleasant crunch. Learn how to make these super soft and chewy treat, full of chocolate and fun! Perfect for breakfast with a glass of cold milk or hot cup of coffee!
Our family is obsessed with cookies! And this recipe is so easy and fun! My kids love to cook them with me, doing all the M&M selection job. And what's great about this recipe is that it's quick and the cookies always turn out soft.
Ingredients
1 cup unsalted butter
1 cup brown sugar
3/4 cup granulated sugar
2 large eggs
2 teaspoons vanilla
3 cups all-purpose flour
1 teaspoon baking soda
1 teaspoon salt
1 cup M&M's (chocolate ones) , plus more for tops if desired
Directions
Step 1
Preheat the oven to 375 °F. Line two baking sheets with silicone baking mats or parchment paper.
Step 2
In a large bowl, using a mixer, cream together the butter and sugar for 1 minute. Add the eggs and vanilla and mix until combined.
Step 3
Add the flour, baking soda and salt and stir mix just until combined. Fold in the M&M's. Refrigerate dough for 15 to 30 minutes if time allows.
Step 4
Using a large spoon, scoop the cookie dough onto the baking sheet about 2 inches apart. Place extra M&M's on the top of the cookies if desired.
Step 5
Bake for 7-10 minutes, or until the edges are barely golden brown. Allow cookies to set on pan for 2 minutes, and then remove to a cooling rack.
Store in an airtight container for up to 3 days (although I doubt they will last that long!).
You can freeze these cookies in cookie scoops (just let thaw completely before baking) or as whole cookies. These will last in your freezer for 3-4 months if wrapped in plastic wrap and stored in a freezer-safe bag.