Famous Plum Torte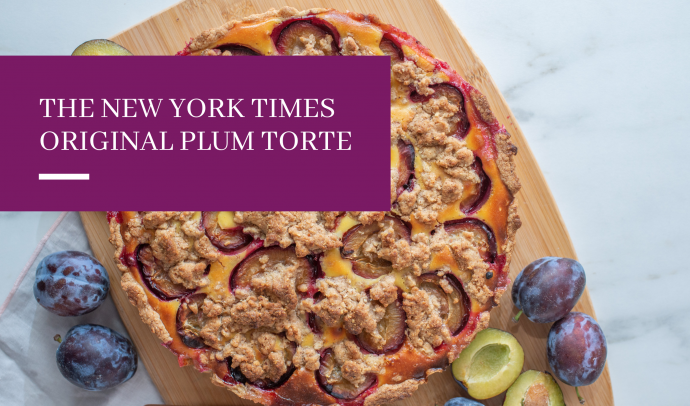 First published in the New York Times by Marian Burros in 1983, this famous recipe was published every year during plum season between then and 1995, when the editor of the food section told readers they were cutting them off, and it was time to cut it out, laminate it and keep it because they were on their own if they lost it.
There are only eight ingredients and four brief, simple steps, that you might have understandable doubts about the greatness of this cake. Let me share with you a short story behind The New York Times most requested recipe of all times. It makes me smile.
As Margaux Laskey wrote: "When Marian Burros, a longtime food reporter for The New York Times, first wrote about the plum torte in September 1983, no one expected it to become the most requested recipe, and among the most beloved, in the history of the newspaper. However, the newspaper received so many requests for the recipe that the editors decided to reprint it the following year, and the next, and each subsequent year until they decided it was time to put an end to the madness. In 1989, they ran an updated version (three-quarters of a cup of sugar, rather than a full cup) with a broken-line border, encouraging readers to cut it out, laminate it and save it. Ms. Burros wrote: "This could really be the last time we print the recipe. Really!" Numerous letters arrived in protest. Two readers even sent in poems."
Today this recipe is not just popular; it is endlessly adaptable (with an apple-cranberry variation, egg substitute with bananas and more).
Ms. Burros, who is now retired, is still making the torte. In the summer, she prefers to use blueberries and peaches, and she doesn't like it with the oversize plums available in midsummer. She holds out for the smaller blue-black Italian plums that arrive in early autumn.
As for me, I love the original recipe. I think it's just perfect!
Ingredients
¾ to 1 cup sugar
½ cup unsalted butter, softened
1 cup unbleached flour, sifted
1 teaspoon baking powder
Pinch of salt (optional)
2 eggs
24 halves pitted purple plums
Directions
Step 1
Preheat the oven to 350 degrees.
Step 2
Cream the sugar and butter in a bowl. Add the flour, baking powder, salt and eggs and beat well.
Step 3
Spoon the batter into a springform pan of 8, 9 or 10 inches. Place the plum halves skin side up on top of the batter. Sprinkle lightly with sugar and lemon juice, depending on the sweetness of the fruit. Sprinkle with about 1 teaspoon of cinnamon, depending on how much you like cinnamon.
Step 4
Bake for 1 hour, approximately. Remove and cool; refrigerate or freeze if desired. Or cool to lukewarm and serve plain or with whipped cream.
Bon Appetit!