Kurnik: Russian Chicken Pie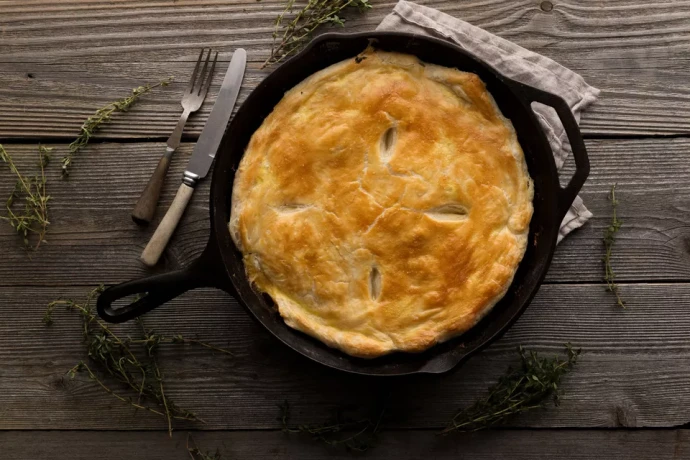 Kurnik is a pie originating from the south of Russia and more particularly from the Cossack territories. It is reported that the tsars were fond of it. When the kurnik is prepared for a wedding, the decoration of the pie is generally based on flowers sculpted in the dough, thus symbolizing love, beauty and benevolence. Today, kurnik is one of the emblematic dishes of the famous Café Pushkin in Moscow. This pie symbolizes a bit the time of great Russian cuisine served on royal tables. It is also a very popular dish thanks to its festive appearance. Cutting a pie at the table is always a moment of joy, as the aromas escape when it is cut and the composition of the different fillings is finally revealed.
This recipe for Russian chicken pie or kurnik is made with chicken, rice, hard-cooked eggs, mushrooms, and a flaky crust. It is often served at holidays, especially Easter. Kurnik varies from family to family. It can be made with two crusts or just a top crust; some recipes call for blini-like pancakes to separate the layers of ingredients; it can be round or rectangular in shape; and when it comes to the crust, well, anything goes. It can be made with pie dough, savory pastry dough, or puff pastry.
Ingredients:
For the Norene Gilletz's Cream Cheese Pastry:
4 ounces butter (cold, cut into chunks)
4 ounces cream cheese (cold, cut into chunks)
1 cup all-purpose flour
For the Chicken Pie Filling:
2 cups water (or chicken broth)
1 cup rice (rinsed)
2 large onions (thinly sliced)
8 ounces mushrooms (sliced)
2 tablespoons butter
1 cup half-and-half
1 tablespoon cornstarch
1 cup chicken broth
3 cups cooked chicken meat (diced)
2 tablespoons parsley (chopped)
1 teaspoon salt
Black pepper (to taste)
4 hard-cooked eggs (finely chopped)
1 tablespoon dill (chopped)
For the Egg Wash:
1 egg yolk
1 tablespoon water (beaten)