Pepper Steak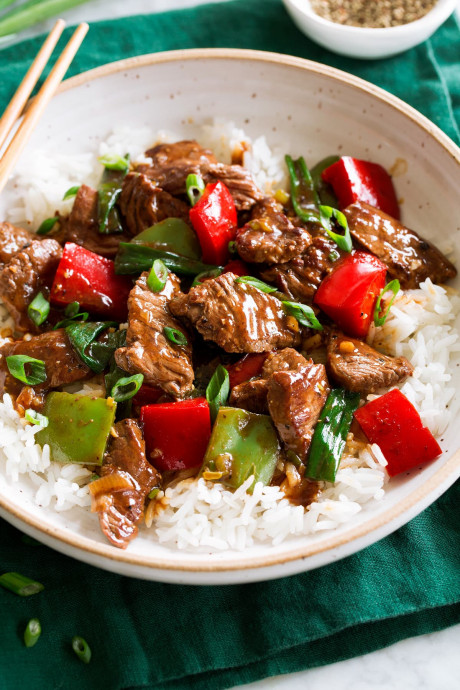 A quick and easy Pepper Steak recipe! Made with tender slices of protein, rich sirloin steak, fresh tender crisp bell pepper and onions, and everything is coated in a simple sauce with rich umami and peppery flavors. Quick stir-fries – like this beefy, extra saucy Pepper Steak are a weeknight dinner staple. A great option for dinner success when not much time is available after a long day but you're still craving a flavorful homemade dish.
Here the process is simple. We blend a few ingredients to create a savory sauce, quick sear the steak and then the veggies, toss everything in that sauce and you've got dinner in a flash. As with any recipe, the first time may be a little slower, but once you get this process down it's a breeze.
This is a delicious, ultra-satisfying dish everyone will be excited about! And you didn't have to spend hours in the kitchen preparing it. Serve it with brown rice or white rice to finish it off. And for a simple time saving tip – cook a big batch of rice over the weekend and keep it stashed in the freezer in portions to save the hassle when you need it on busy days.
Ingredients:
1 1/4 lbs. top sirloin steak
1/3 cup low-sodium chicken broth
1/4 cup shaoxing wine
3 Tbsp soy sauce*
1 Tbsp rice vinegar
1 Tbsp granulated sugar
2 tsp cracked black pepper
2 tsp dark sesame oil
1 Tbsp cornstarch
6 tsp vegetable oil, divided
Salt
1 red bell pepper, chopped into bite size pieces
1 green bell pepper, chopped into bite size pieces
6 green onions, white portions sliced, green portion chopped into 2-inch pieces
1 Tbsp minced garlic
1 Tbsp peeled and minced fresh ginger