Tortellini With Creamy Sun-Dried Tomato Sauce And Spinach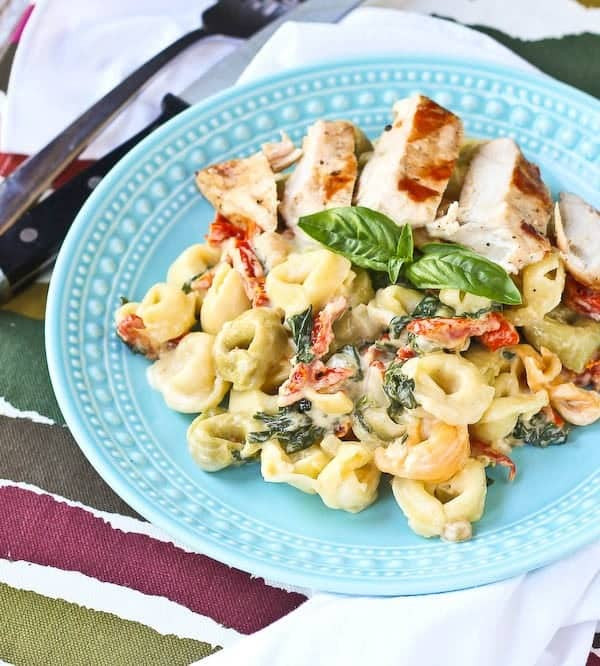 Tortellini with creamy sun-dried tomato sauce and spinach is a weeknight meal or a meal to impress guests! You'll love the flavor the sun-dried tomatoes add to the sauce! This little pasta number is ready in 25 minutes and is a quick and easy vegetarian meal. Ben likes to grill some chicken to go with this, but it's totally not necessary – it's a totally satisfying meal without any meat.
It's super simple to make – while the tortellini boils, you make the sauce. All you need to do is sauté the onions, add the sun-dried tomatoes and spinach, and cook until the spinach is wilted. It only takes a couple of minutes. Then you add the rest of the sauce ingredients and just let it cook while your tortellini finishes. Mix it all together and serve with a side salad or grilled chicken. Or both. Or steak! Steak would be yummy, too.
Ingredients:
2 cups dried cheese tortellini
1 jar (7 ounces) sun dried tomatoes in extra virgin olive oil, cut into thin strips
1 teaspoon oil reserved from sun dried tomatoes
1/2 cup diced onion
1/4 teaspoon salt
1/4 teaspoon pepper
1 clove garlic, minced
5 ounces baby spinach leaves
1 cup heavy cream
1/2 cup grated Parmesan cheese