Hawaiian Grilled Chicken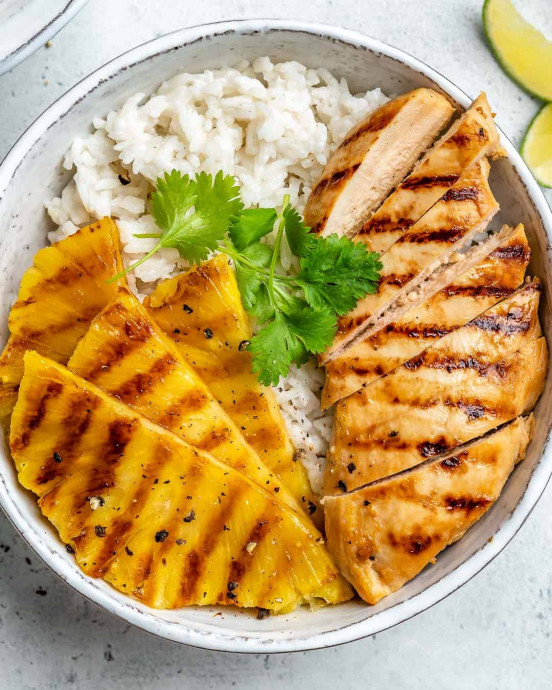 This Hawaiian Grilled Chicken recipe is so tasty, juicy, and a crowd-pleaser. Succulent Chicken breast grilled to perfection and will be your go-to recipe all year long! A sweet and savory chicken recipe that the whole family will enjoy!
A simple chicken recipe to die for. It is easy to make and so simple but yet so delicious. Tender chicken breast marinated in a tangy and sweet sauce and grilled to perfection. Make this Hawaiian chicken for your family or for a crowd. Perfect all summer long when the outdoor grills are fired up or can be grilled indoors during the winter. Pairing pineapple with chicken gives that tropical flavor to your meal. Perfectly juicy and tender chicken breast served over creamy coconut rice.
This recipe is amazing, because it's so healthy: simple grilled chicken over rice with a side of grilled pineapple. The perfect combination of protein and carbs. Want more fiber? Add a side of veggie. Easy: this chicken dish is easy to make. marinate the chicken ahead to save you time, grill to perfection, and serve over coconut rice. Delicious: enjoy a tropical meal right at home. Juicy and tender chicken breast over a tasty coconut-flavored rice bowl. So good!
Ingredients:
For the grilled chicken & pineapple :
1 1/2 pounds boneless skinless chicken breast or thighs
1/2 cup low-sodium soy sauce
1/4 cup water
1/4 cup honey or maple syrup
2-3 cloves garlic minced
1 teaspoon sesame oil
1/2 cup light coconut milk
1 cup pineapple slices fresh
For the coconut rice:
1 cup jasmine rice or any other rice
1 1/4 cup light coconut milk
1/2 cup water
3/4 teaspoon kosher salt
optional: cilantro leaves and lime wedges for garnish