Chicken and Broccoli Casserole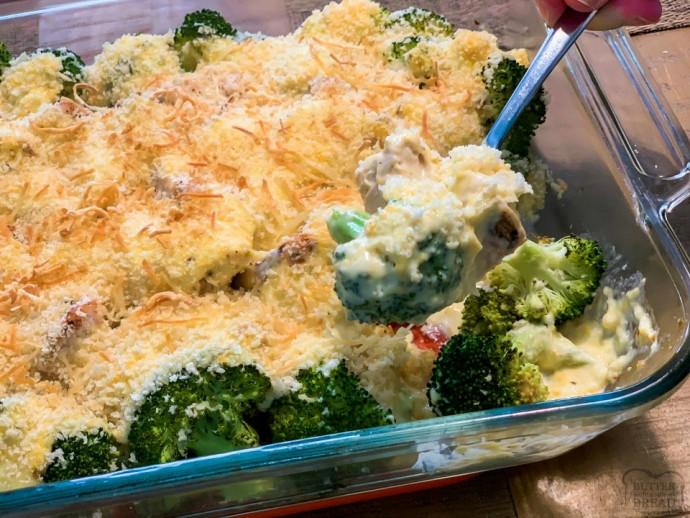 Chicken and Broccoli Casserole~ we're sharing our family recipe that's been passed down generations! Creamy cheese sauce mixed with delicious tender chicken and broccoli topped with buttery bread crumbs make it the perfect comfort food! Chicken and Broccoli Casserole is a comfort food classic and one of our go-to casserole dishes that the entire family loves. I tend to make it more in the cooler months but I recently started baking it in my smoker- instead of our oven- and have found I prefer doing it that way because it keeps the house from heating up in the summer time! So now, it's a recipe that we enjoy year round!
This recipe works best with grilled chicken breasts, but if you don't have the time or ability to grill a few chicken breasts you can always use canned chicken. Adding 1 cup of grated parmesan cheese adds a depth of flavor and a little saltiness. I always add Parmesan Cheese on top, too. But if you don't have that you can always omit it and it will still turn out delicious. Serve over rice or eat as is. Enjoy!
Ingredients:
4 Chicken breasts
2 lbs Fresh broccoli florets
1 can Cream of chicken soup
1/2 cup Whole milk
1/2 cup Mayonnaise or Greek yogurt
1 1/2 cup Grated cheddar cheese
1 cup Grated parmesan cheese
2 1/2 tsp Lemon juice
1/2 cup Breadcrumbs