Easy Homemade Orange Rolls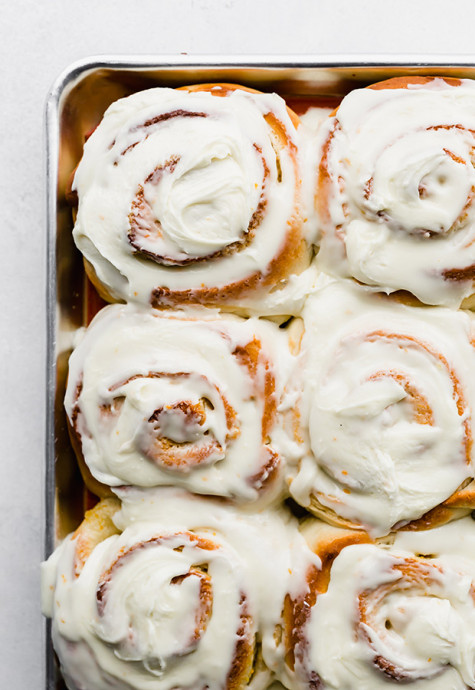 This easy homemade orange rolls recipe is loaded with lots of fresh orange zest and orange juice. The orange rolls are soft and fluffy, and are seeping in smooth orange frosting. Orange rolls are very similar to cinnamon rolls except the filling and frosting include fresh orange zest and fresh orange juice, giving it a beautiful citrus flavor.
I have been making these rolls for years! It's tradition in our house to have them Easter morning. It's something we look forward to every year. These orange sweet rolls have orange zest and juice in the filling and the frosting, which really helps the orange flavor penetrate through.
This recipe doesn't take all day! Because this sweet roll dough has at least 2 tablespoons of yeast, the dough rises fairly quickly. You don't need to sit around waiting for the dough to rise. Note: These rolls don't taste "yeasty" at all. Just want to put those worries to rest! This is my favorite dough recipe, it's really soft and tender. You'll love it! Promise.
Ingredients:
Dough
1 cup warm water
3/4 cup buttermilk, room temp
1/2 cup granulated sugar
1/4 cup melted butter
2 eggs
2 1/2 tablespoons active dry yeast
1 1/2 teaspoons salt
5-6 cups all-purpose flour - may need more depending on climate and elevation (see notes).
Filling
6 tablespoons butter, softened
1 1/4 cup granulated sugar
2 tablespoons orange zest - zest of about 1 large orange
1 tablespoon fresh orange juice
Orange Frosting
6 tablespoons butter, softened
4 tablespoons fresh orange juice - may need more to thin out the frosting
1/4 teaspoon orange zest
3 1/2 – 4 cups powdered sugar