Baked Chicken Parmesan Bundles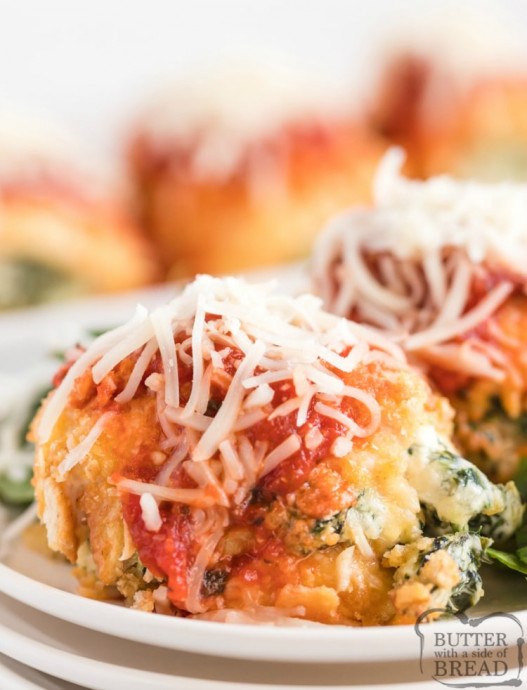 Chicken Parmesan Bundles are stuffed with spinach & cheese then breaded, baked and topped with flavorful marinara sauce. Perfect baked chicken parmesan dinner recipe.
Baked Chicken Parmesan Bundles are absolutely amazing – definitely my favorite version of Chicken Parmesan! The recipe is simple to make and the final result has amazing flavor. It's a fantastic weeknight dinner recipe that everyone loves and it is also great for dinner parties since it is so easy to serve out individual portions.
This parmesan chicken recipe has three types of cheese in the filling and the breading is made out of crushed Ritz crackers – so easy and the flavor is absolutely delicious! If you have really picky eaters, it's really easy to just leave the spinach out. I love that this version is baked so there is no need for frying. This recipe is a great low-carb, high-protein entree that everyone loves! If you are really trying to cut out carbs, just completely leave the breading off – the stuffed chicken is still delicious!
Ingredients:
4 oz cream cheese softened
10 oz pkg frozen chopped spinach thawed and well-drained
1 1/4 cups shredded mozzarella cheese divided
6 Tbsp grated parmesan cheese divided
6 small boneless skinless chicken breast halves, or 12 chicken tenders, pounded to 1/4 inch thickness
1 egg
10 Ritz crackers crushed
1 1/2 cups pasta sauce