Balsamic Chicken And Veggies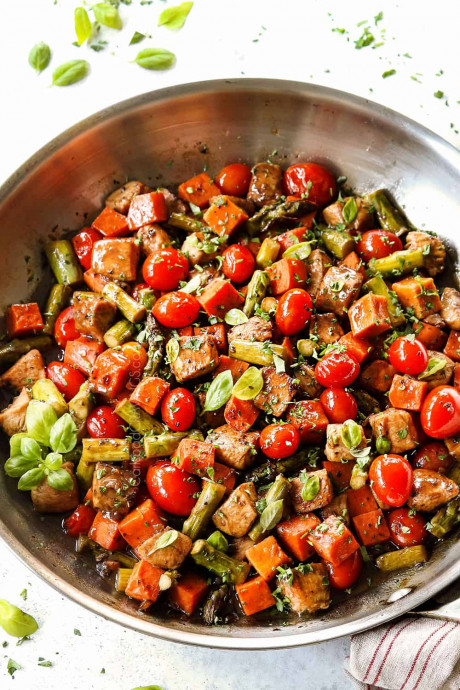 This balsamic chicken and veggies is exploding with flavor, cooks all in one skillet and on your table in less than 30 minutes!
This balsamic chicken couldn't be any easier or delicious with the best sauce and a cook time of less than 10 minutes! It's the perfect stress-free weeknight dinner that will instantly become a new favorite-it's definitely one of mine! This balsamic chicken is made with easy-to-find, fresh, healthy ingredients of juicy chicken breasts, sweet potatoes, asparagus and cherry tomatoes all coated in an intoxicating sweet and savory balsamic sauce that cooks up in minutes! You can follow the balsamic chicken recipe as written or switch up the vegetables for whatever you have on hand such as green beans, bell peppers, or mushrooms, because at the end of the day, it's all about the balsamic sauce!
Use whatever vegetables you prefer or have on hand, but I highly suggest sticking with the sweet potatoes. Their sweetness is a highlight of the entire recipe! If you use different vegetables, keep in mind that you may need to adjust the cooking time depending on what veggies you use. For example, broccoli takes longer to cook than asparagus, so you'll want to cook it for a minute or two before adding asparagus.
Ingredients:
BALSAMIC SAUCE
3 tablespoons extra virgin olive oil
3 tablespoons balsamic vinegar
2 tablespoons honey
1 tablespoon lemon juice
1 tablespoon Dijon mustard
1 teaspoon cornstarch
1 tsp EACH dried oregano, dried basil, salt
1/2 teaspoon pepper
pinch -¼ teaspoon red pepper flakes optional for a kick
CHICKEN AND VEGGIES
1 1/4 pounds chicken breast chopped into 1 1/2-inch pieces
1 large sweet potato, peeled chopped into 1/2-inch pieces
1 tablespoon unsalted butter
1 tablespoon olive oil
1 shallot, chopped (may sub 1 tsp onion powder)
1 lb fresh asparagus ends trimmed, chopped into 2-inch pieces
1 ½ cups cherry tomatoes
4-6 cloves garlic, minced (may sub 1 tsp garlic powder)