Grilled Vegetable Salad With Goat Cheese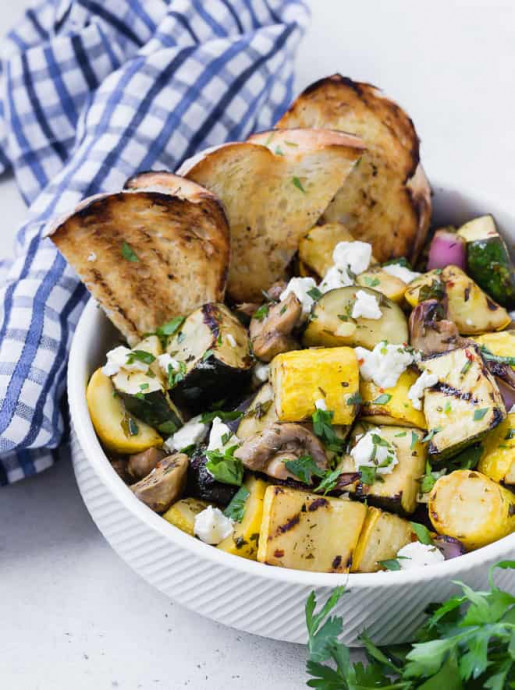 Tender marinated zucchini, summer squash, mushrooms, and red onions are grilled to smoky perfection, and topped with tangy goat cheese in this delish grilled vegetable salad. Serve it as a salad, a side dish, or a light summer entree. Don't you love the flavor that grilling adds to food? Slightly charred and subtly smoky, the natural flavors of meat, veggies, and even fruit are intensified by the high heat of grilling. The grilled food sort of gets an outdoorsy flavor.
This grilled vegetable salad is a good example. Summer squash, zucchini, mushrooms, and onions aren't really terribly exciting vegetables but marinate them and put them on the grill to cook and magic happens! These regular vegetables become so flavorful and delicious, you can hardly believe it. This salad consists of grilled vegetables with goat cheese, and can be served warm, room temp, or cold. Serve it as a side dish with grilled meat, or make it a light summer lunch or dinner, with warm bread. Add this grilled vegetable salad to your grilling repertoire this summer. The vegetables are readily available in the grocery store or farm markets, they're inexpensive, and this salad is so good for you, too. Low in carbs and calories but packed with vitamins, minerals, fiber, and all sorts of good stuff. You're going to love it!
Ingredients:
MARINADE:
3 cloves garlic, minced
1 tablespoon chopped fresh rosemary
1/4 cup chopped fresh parsley, more for garnishing
1 teaspoon lemon zest
¼ cup lemon juice (about 1 lemon)
1/4 cup red wine vinegar
1/2 cup olive oil
1/2 teaspoon red pepper flakes
SALAD
2 zucchini, cut into 1-inch half moons, about 1 lb.
3 summer squash, cut into 1-inch half moons, about 2 lbs.
8 ounces mushrooms, halved
1 large red onion, unpeeled, halved from top to bottom (see note if using grill basket)
4 oz. goat cheese, crumbled