Snickers Caramel Apple Dip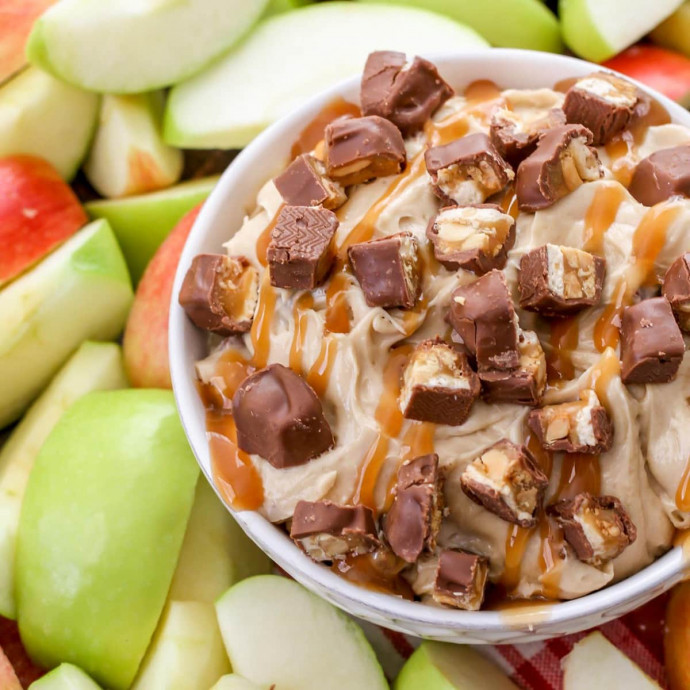 Once you try this snickers caramel apple dip, you'll never want to eat your apple slices any other way! With cream cheese, brown sugar, caramel syrup, and snickers bars, this snickers dip is totally irresistible! It makes the perfect treat for showers, get togethers, or movie nights. I've realized over the years that we have our favorite "go-to" dessert recipes that we've made plenty of times, and it's nice to have new treats on hand.
We've been making Apple Brickle Dip for so long, and I knew adding Snickers and Caramel syrup to it would make it even better. I mean, you can't really go wrong when adding Snickers to any treat, right?! The kids also love this Apple Dip, so if you're looking for a treat to make for Family night or even for a birthday party, this is a great one. It takes minutes to put together and will be gone in minutes too. One of the reasons I love making treats so much is because the kids love to join me in making them. It's one of my favorite things in the whole world to get in the kitchen with the kids and making something yummy together. This recipe is simple enough for them to help with.
Ingredients:
8 oz cream cheese softened
1/2 c brown sugar
1/2 c sugar
1 tsp vanilla
2-4 TB caramel syrup divided
6 fun size Snickers bars cut up and divided