Healthy Vegan Quinoa Salad With Brussels Sprouts & Pepitas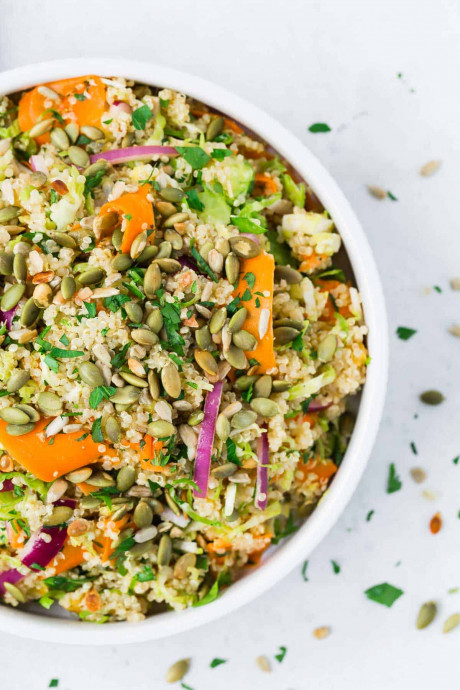 You'll love the crisp green Brussels sprouts shredded into this exciting vegan quinoa salad with dried apricots, sunflower seeds, and pepitas. The homemade vinaigrette is fabulous! A vegan quinoa salad that has so much going for it, you'll want to eat it for breakfast, lunch, and dinner. I know I do! This salad has just the right elements to make it appealing all day long.
Shredded emerald green Brussels sprouts provide a crisp counterpart to filling quinoa, with chewy sweet bits of dried apricot, vivid orange carrot ribbons, and nutty seeds. Dressed with a mildly sweet but tangy maple vinaigrette and subtly flavored with cardamom, the salad is so flavorful, not spicy-in-your-face, but gentle and interesting.
Whether you are vegan or not, whether you're a quinoa fan or not, whether you love Brussels sprouts or not, I know you'll love this salad because the sum total of all the parts is so delicious!
The entire salad can be made at least a day in advance. Store it in a tightly covered container in the fridge. Or, prepare the elements of the salad and store them separately. Cook up the quinoa, shred the Brussels sprouts, make the carrot ribbons, toast the seeds, make the dressing. Stir them together just before serving.
Ingredients:
SALAD
1 ½ cups uncooked quinoa
3 cups low sodium chicken or vegetable broth
½ cup coarsely chopped dried apricots
⅔ cup untoasted pepitas (pumpkin seeds)
⅓ cup raw sunflower seeds
16 oz. Brussels sprouts, trimmed and shredded
1 or 2 carrots, cut into ribbons with vegetable peeler
½ large red onion, sliced or chopped (see note)
½ cup chopped fresh parsley
DRESSING
⅓ cup apple cider vinegar
¼ cup olive oil
2 tablespoons maple syrup
1 tablespoon coarse ground mustard
1 teaspoon ground cardamom
1 teaspoon kosher salt
½ teaspoon ground pepper