Triple Berry Toaster Strudels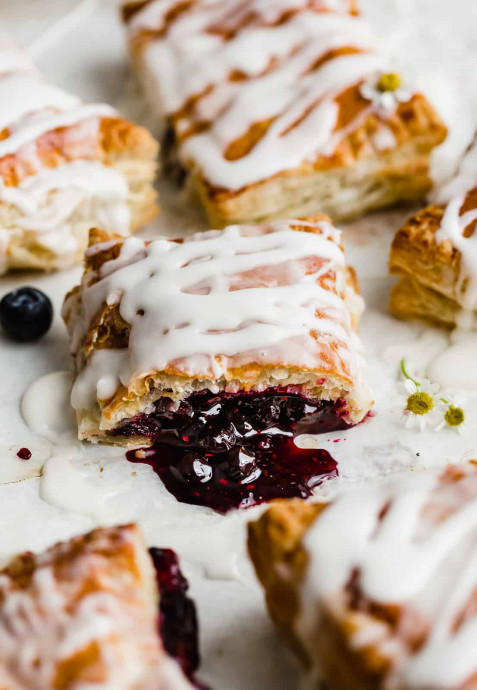 Triple Berry Toaster Strudels feature a homemade triple berry jam that's enveloped by two flaky pastry sheets. Once baked we drizzle a vanilla-almond glaze over each toaster strudel, and I got to say, it's absolutely heavenly. I vowed to eat just one and that didn't go over well. If there's a recipe to test your self-control, it's this one!
Do you eat a healthy breakfast every morning? There are mornings when I'll wake up and crave something healthy (hello breakfast quinoa). We're talking healthy morning drinks such as a broccoli smoothie, açai smoothie, or a healthy green smoothie. (All of which will fill you up, and they taste crazy good.) But then again there are days when I want dessert for breakfast. Exhibit A: these homemade toaster strudels. This is basically what they serve in European pastry shops. And here we are making them in our home. But let me preface this by saying this recipe is easy. You won't be slaving away in the kitchen. Quite the opposite, actually.
Ingredients:
3 cups mixed frozen berries
1 tablespoon lemon juice
3/4 cup granulated sugar
2 teaspoons cornstarch
1 teaspoon vanilla extract
2 sheets puff pastry - thawed (I used Pepperidge Farm brand)
1 egg - lightly beaten, for egg wash
Vanilla Almond Glaze
1 1/2 cups powdered sugar
1/2 teaspoon vanilla extract
1/4 teaspoon almond extract
3 tablespoons heavy cream
2 tablespoons milk