Easy Roasted Shrimp with Green Goddess Dip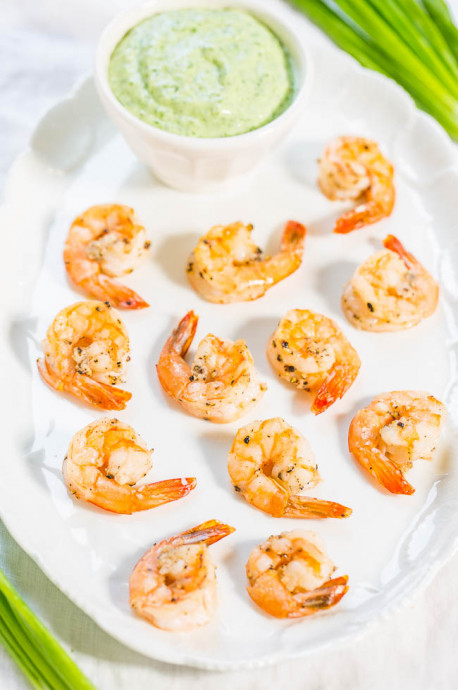 This is the easiest way to make shrimp you'll ever find. They're juicy, full of flavor, healthy, ready in 10 minutes, and foolproof. Compared to frying, boiling, or threading onto skewers, this is definitely the easiest method. Simply place the shrimp on a baking sheet, drizzle with olive oil, salt and pepper, and bake. It's a perfect recipe for a no-fuss party appetizer, an easy lunch, or a perfect clean-eating weeknight dinner that's ready in a flash.
It's a creamy mix of basil and green onions with lemon juice and garlic for added flavor. I used 0% fat Greek yogurt rather than sour cream and lite mayo to keep it healthier. It's a nice change-up from standard cocktail sauce, it's green, so it feels healthy, and works great as a veggie dip or as salad dressing. You can double the recipe and stash it for a week in the fridge. Dipping the warm, sweet, plump shrimp into the cool, creamy dip is a perfect flavor and texture contrast.
Ingredients:
Shrimp
1 pound large raw shrimp (12-15 count ideal, 16-20 count okay), peeled and deveined with tail on
1 tablespoon olive oil
salt and pepper, to taste
Green Goddess Dip
1/2 cup mayonnaise (lite okay)
4 scallions, trimmed and roughly chopped (use white and green)
1/2 cup fresh basil leaves (about 12 to 15 large leaves)
2 tablespoons lemon juice
1 teaspoon salt, or to taste
1/2 teaspoon pepper, or to taste
1/4 teaspoon garlic powder
1/2 cup plain Greek yogurt (I use 0% fat; sour cream including lite versions may be substituted)