Chicken Avocado Quesadillas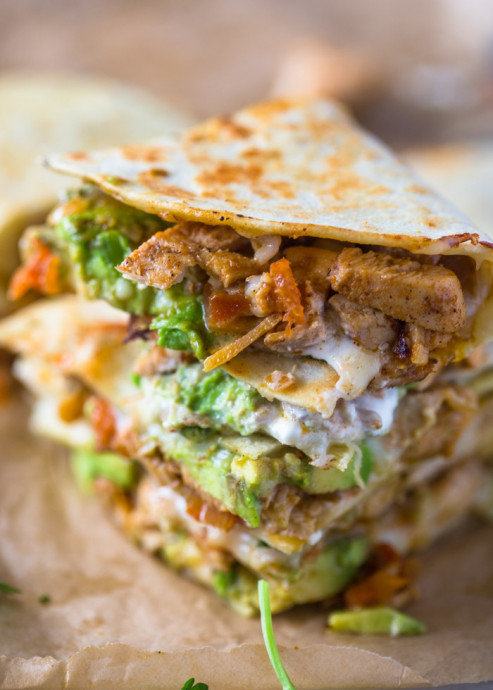 Spicy, smokey, flavorful fajita chicken with caramelized bell peppers and onions. Add some fresh avocado, sour-cream, lime and cilantro and don't forget the cheese. Place this mouth-watering mixture in a flour tortilla and pan sear just until the outside is crisp and the inside is gooey and melted. Who can say no to these quesadillas?!I've been making this exact quesadilla recipe for years and we just can 't get enough of it. This recipe is a jazzed version of my famous Don't let the bold flavors intimated you though because these quesadillas are pretty easy to make and can be made ahead of time. They can also be frozen for meal prep. After cooking them, they can be stored in ziplock bags in the freezer or fridge.
To make the mixture, cook chicken breasts, bell peppers, onion, and tomatoes in fajita spices. Then to make the quesadillas, fill a tortilla with cheese, sour-cream, avocado and some of the chicken mixture, fold and pan sear until crispy. Enjoy these warm quesadillas with guacamole, salsa, or sour-cream!
Ingredients:
For the chicken:
2 medium chicken breasts boneless, skinless
Kosher salt and freshly ground black pepper
2 teaspoons olive oil divided
1 small onion finely chopped (about 1/2 cup)
1 cup bell peppers any color, diced
3 garlic cloves finely chopped
1/2 cup tomatoes diced
2 tablespoons fajita or taco seasoning
For the quesadillas:
4 medium flour tortillas
1 avocado seeded, and cut
4 teaspoons low-fat tablespoons sour-cream
1/2 cup low-fat cup mozzarella mexican blend, or cheddar cheese
fresh lime juice and minced cilantro optional