Quinoa Bowl Recipe With Roasted Tomatoes, Ricotta And Balsamic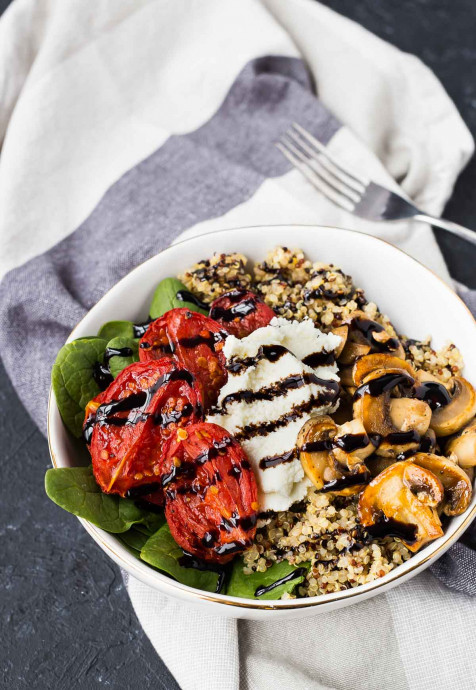 This quinoa bowl recipe is perfect for meal prep days – you'll love lunching on this all week! The roasted tomatoes are more flavorful than you'd believe! This recipe is perfect for meal prepping. Since the tomatoes are slow-roasted, they do take a bit of time (over an hour), but that hour is hands off and luckily the roasted tomatoes are great left over. While I roast the tomatoes, I cook the quinoa and sauté the mushrooms. Store these three ingredients in the fridge.
Then when it's time to eat, you just pile all the ingredients up in a bowl. You could even package these in containers and they'll be ready to go for work in the morning. It's terrific warmed up in the microwave for a few minutes, but it's also pretty tasty cold. I've had it both ways and I think my preference is a few minutes in the microwave to take the chill out.
Ingredients:
FOR TOMATOES:
1 can (28 oz) Red Gold Whole Peeled Tomatoes, each tomato sliced in half lengthwise
Olive oil spray or 1 teaspoon olive oil
1 tablespoon white balsamic vinegar
1/4 teaspoon salt
1/4 teaspoon ground black pepper
FOR MUSHROOMS:
1 teaspoon olive oil
8 ounces of mushrooms, sliced
1/4 teaspoon salt
1/4 teaspoon pepper
FOR BOWL:
3 cups cooked quinoa (1/2 cup on each bowl)
1 package (15 oz) part-skim ricotta cheese (1/4 cup for each bowl)
4-6 cups loosely packed fresh baby spinach (1/2 cup to 1 cup on each bowl)
balsamic glaze to drizzle on top (about 1/2 tablespoon on each bowl)