Mexican Baked Cheesy Street Corn Dip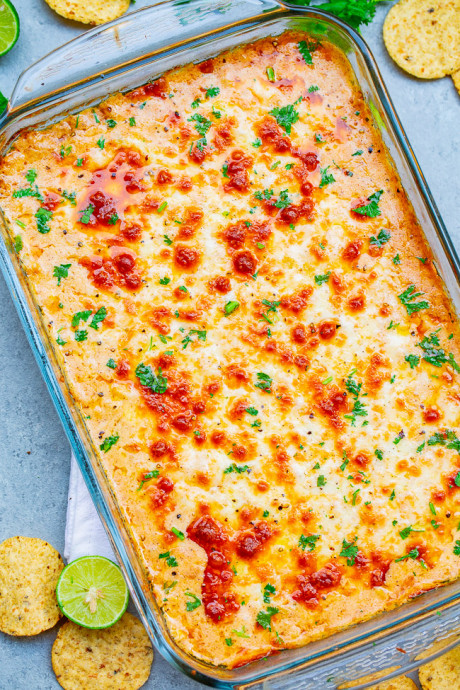 Mexican baked cheesy street corn dip – a hot corn dip reminiscent of mexican street corn!! Creamy, cheesy, spiked with lime juice, chili powder, and a serrano chile or jalapeno for a touch of heat! So easy and ready in 20 minutes!! Perfect for parties, potlucks, tailgating, or your next fiesta! I am a huge fan of dips, especially cheesy ones. I don't need an entree and can make a meal out of chips and dip. No shame.
This dip is so fast and easy to make. I can't think of an easier dip to whip up. It's perfect for parties, potlucks, and tailgating.
Almost no one can resist melted cheese with juicy corn in a creamy mixture spiked with lime juice, a serrano chile for just a touch of heat, chili powder, paprika, and garnished with fresh cilantro to amp up the Mexican-inspired flavors. The flavor of grilled corn is so magnificent, and then baked together with the cheese and creamy ingredients, it would be a fiesta-favorite indeed!
Ingredients:
two 15-ounce cans canned corn, drained and rinsed (frozen that you thaw and drain is okay or fresh corn that you first cook and cut off the ears is okay)
1/2 cup Mexican crema or sour cream
1/2 cup mayonnaise
4 cups shredded cheese, divided (I used white cheddar; use your favorite Mexican shredded cheese blend)
1 serrano chile or jalapeno pepper, seeds removed and diced very small; or to taste (serrano is hotter than jalapeno)
2 to 3 tablespoons lime juice
1 teaspoon chili powder
1 teaspoon smoked paprika or paprika
1/2 teaspoon freshly ground black pepper, or to taste
2 to 3 tablespoons fresh cilantro for garnishing, or to taste